Under Armour—athletic apparel for amazing adventures
Stay safe in the sun with Under Armour's HeatGear and CoolSwitch lines—providing UPF 30+ protection.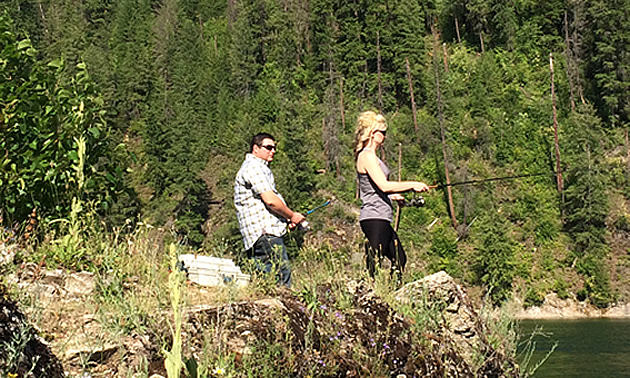 Under Armour (UA) was founded with this worthy goal—to launch an athletic clothing line designed to keep you cool, dry and light, no matter what outdoor activity you are engaged in. The HeatGear line was created to be worn during the warmer seasons and the CoolSwitch line is to be worn during the cooler seasons. UA HeatGear wicks sweat, regulates body temperature and is manufactured with the most versatile and breathable fabric. UA CoolSwitch uses an exclusive coating on the inside that pulls heat away from your skin so you feel cooler and can keep active. The moisture transport system wicks sweat and dries fast, keeping you feeling clean and refreshed all day long. The anti-odour technology prevents the growth of odour-causing microbes so you feel and smell fresh during workout sessions. In addition, you stay safe in the sun with the clothing's 30+ UPF protection.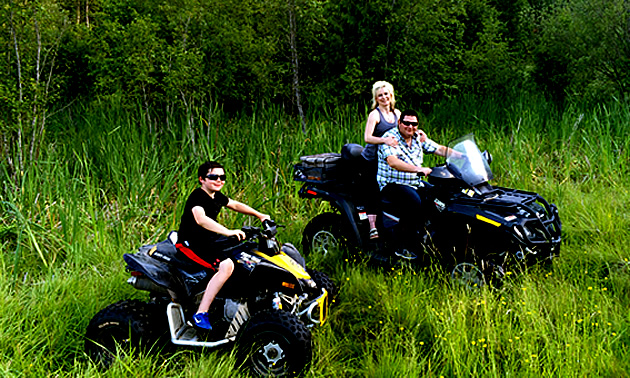 Hook, line and sinker
Under Armour launched an appealing line for men—the Chesapeake plaid, short-sleeved fishing T-shirt. Men can enjoy fishing in comfort; this shirt offers a loose fit and breathable material, manufactured with 100 per cent polyester. Catching fish is the fun part, gutting is another story—UA ensures this fabric contains stain-release material, keeping blood, guts and dirt from penetrating. The HeatGear fabric lets nothing stop you from fishing all day long: rain or shine—cast your line!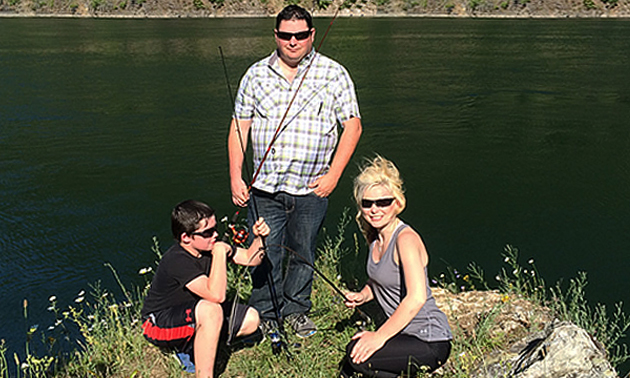 "This Under Armour shirt is well-suited for fishing environments," said Will Buckley. "The colours are bright and attractive, and the fit is absolutely comfortable."
Plaid is popular—so you can fish in fashion or wear this shirt hiking, canoeing or driving on a long trip.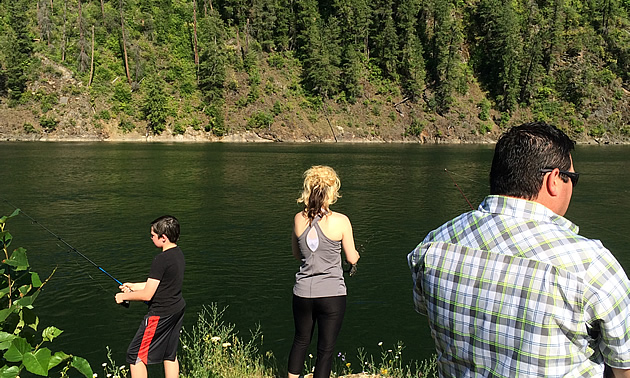 Cast your line, ladies
Under Armour launched a new line for women—a CoolSwitch tank top with a crossover back design consisting of 88 per cent polyester and 12 per cent elastane. It's perfect for gearing up the quad with ease, loading up the tackle box and heading out to your secret fishing hole.
The UA logo appears on the front with a reflective coating, visible to all. The scoop neck welcomes the cool breeze, and with the slight drop-tail hem, you can enjoy the outdoors in comfort. The mesh side paneling is designed for extra ventilation along with the large sleeve opening for extra mobility and range so you can cast out your lure with precision.
As a lady who loves wearing outdoor gear, I find the design of this UA tank to be unique, sleek and attractive. The openness in the back allows my body to breathe while highlighting muscle tone. I enjoy wearing Under Armour's high-quality, luxurious athletic attire.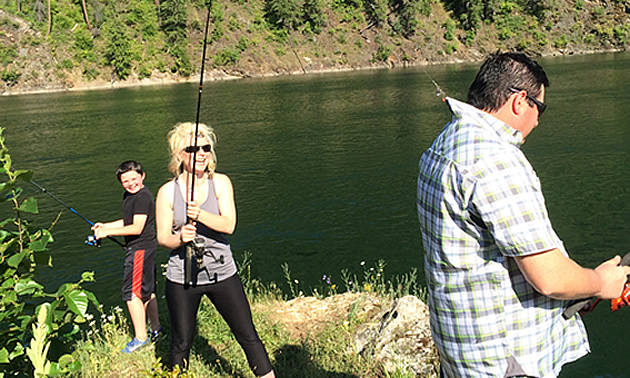 Hit the course for a round of golf
Under Armour features men's Playoff golf polos consisting of 88 per cent polyester and 12 per cent elastane created to offer four-way stretch fabrication for greater mobility in any direction. The soft anti-pick, anti-pill fabric has a cleaner, snag-free finish—smooth to touch. And thanks to the updated performance fit, it is more comfortable than before.
"The Under Armour golf polo is perfect for golfing," said Will Buckley. "The range of motion allows me full swings with a relaxed fit."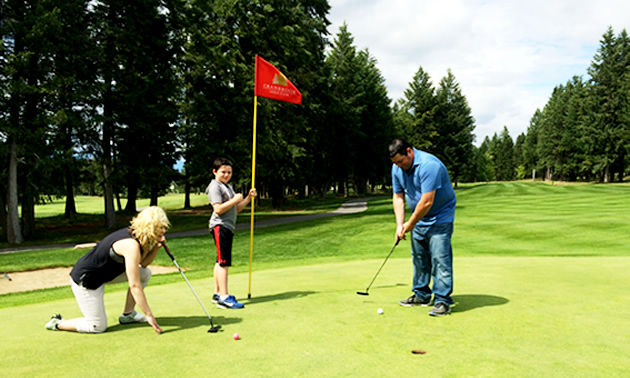 The HeatGear fabric keeps your skin protected from harmful UV rays while aiming for that hole-in-one. Don't let the heat and sweat prevent you from performing your best on the golf course.
Comfortably chic 'n classy
Under Armour's women's CoolSwitch sleeveless tank top is displayed with a front UA logo and side logo in text. The classic crew neck and exclusive coating on the inside pulls heat away from your skin so you feel cool and stay in the game. The wind blows freely through the polyester/elastane tank, adding to the coolness factor.
I find the lightweight material feels incredible on my skin, and this UA tank offers an absolutely cute sense of style. The dropped armhole is designed for extra mobility and range so I could swing accurately, even from a sand trap.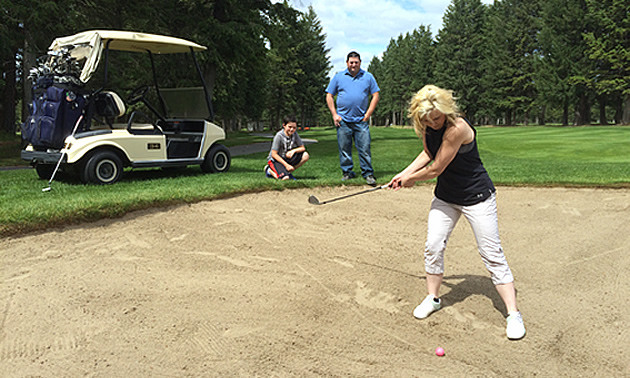 Sports and shorts
Under Armour's Eliminator boy's shorts are ideal for outdoor sports and adventures with the family. Whether it's kicking around a soccer ball, scoring a goal or running a race, these UA shorts are ideal for boys who like to burn off energy by being active.
The smooth, lightweight, fast-drying fabric is designed for superior performance. The internal dual-colour drawstring allows the convenience of making adjustments for support and comfort. From field play to jumping on a quad, UA ensures a perfect fit with built-in protection from UV rays.
"These shorts are so comfy, it feels like I can do anything in them," said Eric Buckley. "I am excited to wear my new Under Armour shorts on the soccer field and score my next goal and hat trick."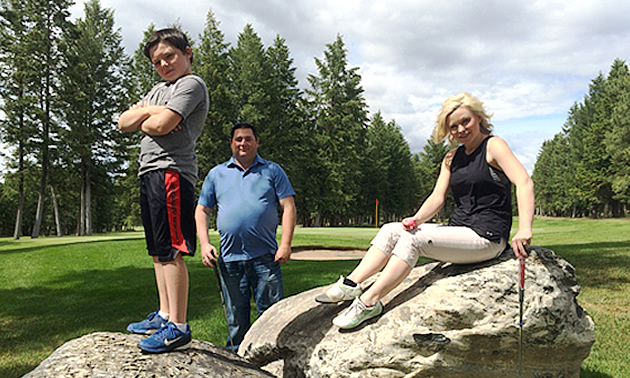 The UA clothing featured in the photos are available in various sizes and colours:
Men's
UA Chesapeake Plaid—men's fishing short-sleeve T-shirt
UA Playoff—men's golf polo
Women's
UA CoolSwitch—women's tank
UA CoolSwitch—women's sleeveless tank