Echo 4x4: rugged off-road luxury
Dare to take the Echo 4x4 trailers to places that would make most RVs come apart at the seams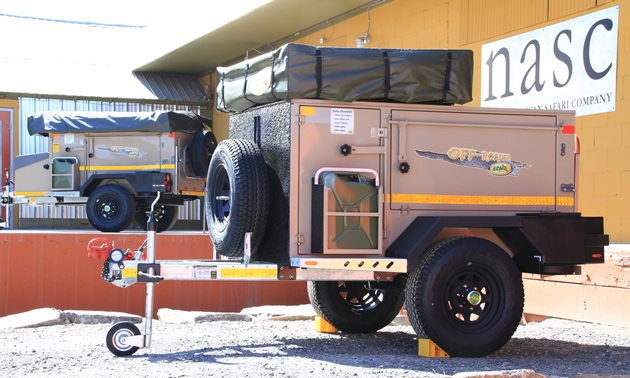 For many people, RVs provide the perfect home-away-from-home, yet for others, RVs have frustrating limitations when it comes to navigating anywhere beyond the tourist routes. Traditional camping—though a wonderful way to reconnect with nature—has limitations in terms of convenience and comfort.
What's needed is a unit that combines off-road toughness with comfort, efficiency, convenience and—if possible—good looks.
Found in Africa
In the national parks of Namibia, Botswana, Zimbabwe and South Africa, Michael and Denise Rogers saw a style of camping and expedition trailer that caught their interest for many reasons. All models of the Echo 4x4 trailer demonstrated compactness, intelligent design and tough, quality construction that they had never seen equalled in North America.
They were confident that this trailer would follow them to the isolated places they wanted to experience back home in Canada, and once they arrived would provide them with convenience and designer-style comfort while allowing them a true outdoor camping experience.
Rugged, compact and luxurious
The Echo 4x4 trailers embody rugged luxury. While TV, microwave oven and air conditioner are absent, the units come with a gratifying number of standard, convenience-inspired features. The fully kitted kitchens are stocked with restaurant-grade dinnerware, wine and beer glasses and a wine rack, all cleverly fitted to arrive intact.
We're talking about comforts and conveniences that include military-grade ripstop waterproof protection from the elements, a queen-size off-the-ground bed, dust-proof compartments for gear and toys, and a set-up and fold-down that can be easily accomplished in just minutes.
We're talking about equipment that includes a two-burner 12,000-BTU stove, a 100-litre water tank, electrical power and large fridge/freezer.
And speaking of rugged, these trailers surpass the toughness limits of many units that are said to be off-road. The Echo 4x4 trailer is light and manoeuvrable and comes with standard eight-ply Kevlar belted truck tires, 2.5-ton axles, 1.8-ton leaf springs, shock absorbers, mechanical inertial brake systems, articulating coupler systems, fire-rated canvas and PVC tents, galvanized and powder-coated bodies and construction that boasts complete freedom from staples, particle board and glued-on accessories.
Even the largest model of the Echo 4x4 trailer line is lightweight enough to be towed by an SUV and allow for excellent fuel efficiency, and the fold-out designs provide roomy, comfortable shelter and shade. These trailers are built Africa-tough for African conditions, and have adapted beautifully to the Canadian wilderness.
The Echo 4x4 is exported to Europe, Australia and now to North America. It is available at Alpine Toyota, 1924 Cranbrook St. N., Cranbrook, B.C. Contact North American Safari Company, 250-420-7213, FB:Echo4x4NorthAmerica or [email protected] for more information.