Several situations, single solution
Trucker's Friend is more than just a multi-purpose utility tool, it gets you out of binds.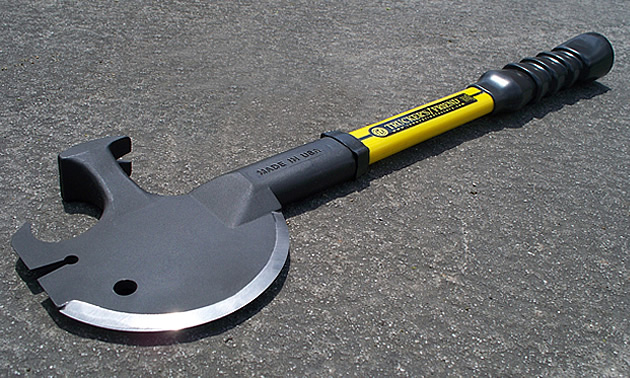 What weighs less than 2 ½ pounds, is less than 20 inches long and wants to be your best friend?
The Trucker's Friend!
While travelling or spending time outdoors, keep Trucker's Friend in your vehicle in case you need to complete a job that requires hacking or demolition. Don't worry about how to chop kindling while camping, hammering in a nail to secure loose boards or twisting wire tightly. Trucker's Friend is professionally designed to tackle both small and large tasks. The axe blade can easily be resharpened after many uses—keep the blade sharp and free of rust for optimal use.
When an emergency strikes, be prepared.
Trucker's Friend is a must-have for emergencies. Why carry around excessive small tools in a clunky toolbox that takes up extra space and is a nuisance to lug around everywhere? Trucker's Friend is lightweight, conveniently storable and used for safety and utility purposes. This is one tool that easily connects to a sling over the shoulder for hiking or walking—take it with you everywhere you go.
Pull, pry and pound with precision.
Regardless of what task you have on the go, chores around the house, repairs on your vehicle, or outdoor projects, Trucker's Friend works efficiently and effectively, allowing you to work smarter, not harder.
Trucker's Friend comes with a lifetime warranty.
Components of Trucker's Friend:
Axe—can be resharpened
Claw hammer
Nail puller
Crowbar and pry bar
Wire twister
Spanner wrench
Grapple hook
Hose spanner
Tire chain hook
Shock-absorbing PowerGrip
Materials consist of cast alloy steel blade and shank, heat-treated for extra strength
Non-conducting fibreglass handle
Rust-resistant matte finish
Temporary blade guard included