Roadtrek introduces its new Ranger RT
Roadtrek Motorhomes has announced the release of a lower priced, lighter weight class B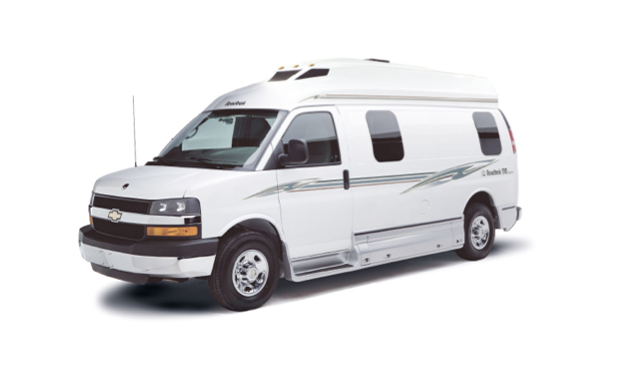 Roadtrek has announced the release of a lower priced, lighter weight class B motorhome
Roadtrek Motorhomes has announced the release of a lower priced, lighter weight, environmentally sensible mid-size class B.
The Ranger RT is Roadtrek's lowest priced fully-equipped camper van yet. Lower weight and a smaller engine allow use of a lighter chassis, all of which lead to better fuel efficiency. Weight is further reduced through carrying of a portable 110V generator only when you are going to use it.
Energy sources are simplified to just electricity and gasoline. By excluding propane, the van's systems are greatly simplified for easier operation and less maintenance, and burning of fossil fuels is reduced. When you're not connected to an external power source, run the 110/12V fridge, 110V stove, 110V microwave oven and 110V water heater with two large-capacity auxiliary batteries through an improved electrical system with a 1250W power inverter. The power-efficient, compressor-driven Norcold fridge provides outstanding cooling without propane. And it's thermostatically controlled—no more frozen produce when the temperature drops at night.
A propane option including tank, stove and furnace is available for those who require ample space heating or extensive stove use while dry camping. A built-in generator is available for those who want one but prefer not to carry a portable one.
Respect for the environment is further exhibited by use of water based exterior paint and reduced use of wood resources.
The Ranger RT starts at U.S. $72,800 and is in production now. The floor has not been lowered so it is flat from front to back. The roof has been raised two inches to maintain full standing height. Like other Roadtreks, the front seats can be swiveled to make use of the cab as a living area, which gives you somewhere to sit when your companion goes to bed early or gets up late. You can even leave your bed made up full-time if you want.
A large king-size bed or twin beds provide firm, comfortable support. The optional flat screen TV allows you to watch TV in bed or swing it into the aisle to watch in comfort from the front captain's seats.
Roadtrek Motorhomes Inc. manufactures the number one selling class B motorhomes in North America (since 1990).