New SCOUT365 inflatable boat carries three at sea and packs in the trunk
Scout Inflatables new generation "hybrid" design 12' inflatable boat tweaks features for toughness, portability and usability.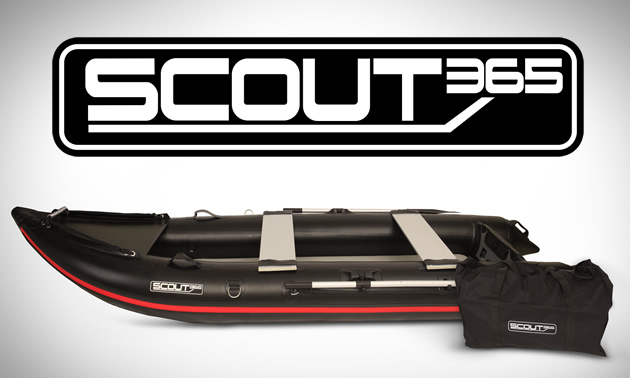 Irvine, Cal, [date]—Scout Inflatables launches new inflatable boat, paddle board and air deck designs this month.
The new company will stake their claim to a top spot in the inflatables market with their new SCOUT365, a sea­worthy 12' inflatable boat.
According to founder and spokesman Graham Kestrup, the new SCOUT365 is an upgrade over the average inflatable. The new boat comes in seven colors, is made of super­ tough material, is ocean ­ready and motor ­capable and Kestrup says the floor is so sturdy, "You can stand up in it without accidentally going for a swim!"
Made with the 5th wheel and RV crowd in mind, the SCOUT365 plus its equipment weighs in at just 68 pounds and fits in a duffle. The boat inflates to twelve feet long and three and a half feet wide and is capable of seating three. A reinforced transom can handle a small motor and a special high­ pressure floor gives stand-­up stability not usually available in inflatables. The SCOUT365 gives you a stable watercraft wherever you go.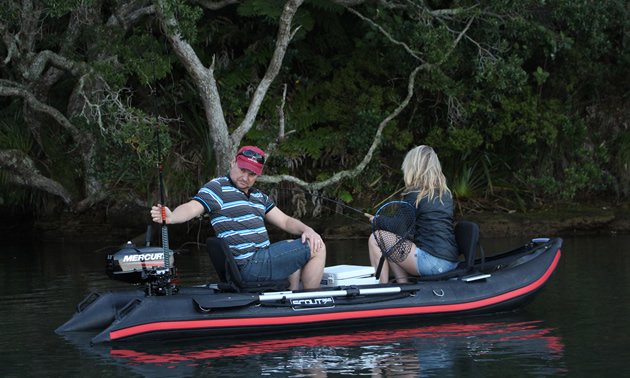 Special ridges on the bottom of the boat called "strakes" protect the boat while it's being dragged on land to avoid punctures. As is normal for such boats, a foot pump is included and requires about ten minutes to launch, but Kestrup points out, "Add a small 12 volt battery and an accessory pump, and the boat is ready in a couple of minutes with nearly no work at all and no danger of over­inflation."
The SCOUT365 design is a blend of dory fishing boats, kayaks and dinghies; sea­worthy but small. The flat bottom is stable enough to stand on and the peaked bow design handles ocean chop without going for a spin. "Most small inflatable boats are unstable, especially at sea," said Kestrup. "With the flat bottom and extended waterline the SCOUT365 is a lot better than average."
The design pulls together the best existing inflatable features with newer ideas like the high pressure floor. "Portables don't need wood plank floors anymore," Kestrup said. "The high pressure floors are just amazing," Graham said. "We use this same technique for inflatable paddle boards and air decks. It's like standing on a solid hunk of wood."
Graham admits the new company went a little overboard to perfect their new boats and products with an eye to making their mark. "We've got decades on the water between us so really, we just wanted to fix all the things about inflatable boats that have bothered us for years."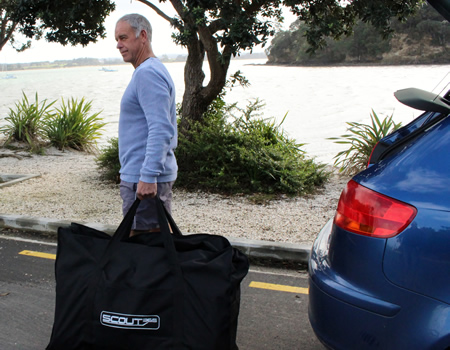 The SCOUT365 comes with everything needed (seats, foot pump, stowage bag, carry bag and oars), but accessories are available. Add-­ons include folding hand carts for longer walks to the water, padded seats with adjustable backrests, kayak-­style paddle upgrades, extra zippered under­seat stowage bags and a 12-­volt air pump. Fishing enthusiasts can also add rod holders.
"This thing fits in your trunk, inflates in minutes, is tough as nails, takes a motor and has a big enough floor to stand on," said Graham Kestrup.
Right now, you can obtain a 10 percent discount by inputting 'RVwest16' in the discount code. Please see us at www.scoutinflatables.com.