Camco portable propane campfire with storage bag
Now you can have a campfire anywhere you go!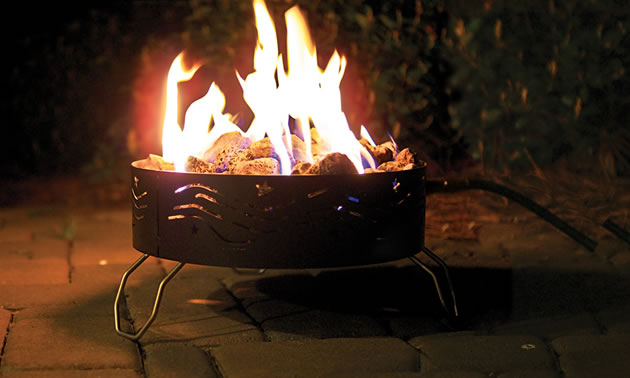 The Camco portable propane campfire with storage bag allows you to have the convenience of a campfire no matter where or how you travel. Whether you're out tailgating, RVing, tenting or just lounging on the patio - this is something you need.
You won't have to gather firewood, clean up ash, or deal with a mess. There is none of that with this handy product. It features an adjustable regulator, which lets you control the size of the flames, and also to extinguish them when you're finished. There are lava rocks incorporated into the campfire as well, to absorb heat and produce additional warmth.
If storage space is limited, Camco has you covered there too. The legs on this portable campfire fold underneath, so it can be stored easily and conveniently.
This is an excellent solution when camping at a park where in-ground fires are restricted/prohibited. It comes with an eight-foot propane hose that can be used with standard LP gas cylinders. The fire tray is 14.5 inches in diameter. This product, with a maximum of 65,000 BTUs per hour, is designed for outdoor use only.
For more information, visit the Camco website.