All-in-one power centre
Quick and easy installation
by Kim Shellborn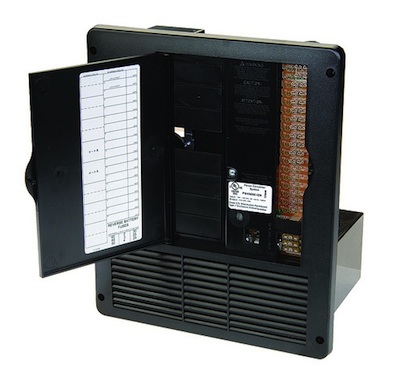 Progressive Dynamics now offers an all-in-one 240-volt, 50-amp AC/DC distribution panel with the patented built-in Charge Wizard system.
Inteli-Power AC features provisions for up to 12 branch circuit breakers and center feed dual 50-amp main breaker, which is not included. Twelve built-in push and lock strain release wiring connectors make installation quick and easy, saving over 50 per cent on installation costs. Features include a lightweight panel design.
Inteli-Power DC features include optional 12 branch fuse holders with two 30-amp circuits or 18 branch fuse holders with four 30-amp circuits. The converter/charger section is accessible from the front. Converter/charger ratings of 60, 75 and 90 amps are offered, the largest rating available in the industry.
The built-in Charge Wizard constantly monitors voltage status and automatically chooses between four modes to safely charge and maintain the battery. The 4575 model can recharge a battery to 90 per cent in three to six hours using the Charge Wizard technology.
Progressive Dynamics has been producing power converters and battery charging systems for the RV industry since 1968.