A clean, green RVing machine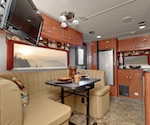 Earthbound RVs are top of the line vehicles that are both modern-looking and eco-friendly.
Earthbound RVs have been constructed using aluminum and composite materials, always with optimum aerodynamics in mind. A low centre of gravity and wide stance suspension results in safer towing capabilities. Features like outdoor electrical hookups and power awnings add touches of luxury. The final product is a top of the line RV that is both modern-looking and eco-friendly.
Utilizing the latest technology has long been a priority for Earthbound. Owners can rest assured that they are doing their part to be environmentally responsible; the lighter, recyclable materials comprising the RVs result in improved fuel efficiency.
The interiors of the RVs are built with the same care as the exteriors. Some of the features include large storage areas, a Sony Bravia™ HDTV and an extensive kitchen area with numerous appliances. Though sleek, Earthbound RVs maintain a family-friendly feel.
Earthbound RVs are wood free, preventing rot, and have seamless roofs and floors. They come with a three-year limited warranty.