Spiced almonds
This snack is quick to make and easy to take on the road
by Ellie Krieger, R.D. for the Almond Board of California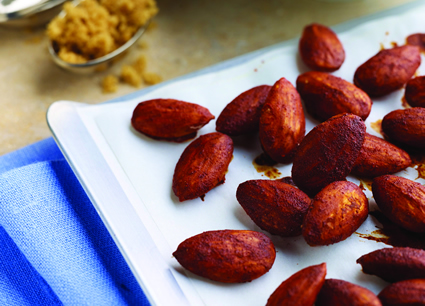 Makes: 8 servings
Active time: 10 minutes
Total time: 30 minutes

Ingredients:
1 large egg white
2 teaspoons (10 mL) sweet paprika
2 teaspoons (10 mL) dark brown sugar
3/4 teaspoon (3 mL) salt
1/2 teaspoon (2 mL) Worcestershire sauce
1/4 teaspoon (1 mL) cayenne pepper
2 cups (500 mL) natural almonds
Cooking spray
Directions:
Preheat the oven to 350°F (180ºC). Line a baking sheet with parchment paper. Spray with cooking spray as necessary.
In a large bowl whisk together the egg white, paprika, sugar, salt, Worcestershire sauce, and cayenne pepper until well combined. Add the almonds and toss until evenly coated.
Transfer the almond to the parchment lined baking tray spread out to form a single layer. Bake for 20 minutes, until the coating is crisp. Almonds will continue to crisp as they cool. Allow to cool completely then break up any nuts that are stuck together. Nuts will keep up to five days in an airtight container.
Nutritional analysis per serving, 1/4 cup (50 mL)
Calories: 210 kcals, Fibre: 4.4 g, Total Fat: 18 g, Cholesterol: 0 mg, Saturated Fat: 1. 5g, Sodium: 230 mg, Monounsaturated Fat: 11 g, Calcium: 96 mg, Polyunsaturated Fat: 4.3 g, Magnesium: 97 mg, Protein: 8 g, Potassium: 264 mg, Carbohydrates: 9 g, Vitamin E: 9.4 mg