Back to Basics: 100 Simple Classic Recipes with a Twist
Michael Smith has just released his new book, Back to Basics with a Twist
by Kimberly Shellborn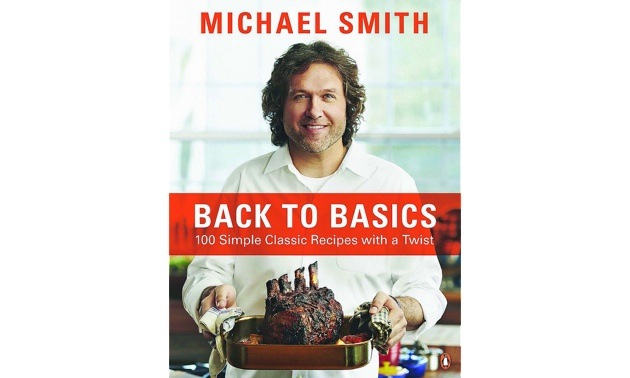 If you watch the Food Network Canada, you may be familiar with Michael Smith and his cooking style. He is the host to several Food Network TV shows including Chef Michael's Kitchen, Chef at Home and Chef Abroad.
Michael Smith has just released his new book, Back to Basics with a Twist.
This book that is loaded with great recipes and inspiring, mouthwatering photos to go with each one. Michael includes foolproof instructions, but also helps a person be creative by giving additional suggestions on how to alter the given recipe. He encourages cooks at home to add their own personality and give a twist to classic recipes, making them more exciting or adding a new flavour that you may never have thought of.
Here is a sample recipe from Back to Basics: 100 Simple Classic Recipes with a Twist:
Moroccan braised chicken with carrot mint couscous
For the chicken:
A splash of vegetable oil
6 chicken thighs complete with skin and bones
1 carrot, chopped
2 onions, chopped
4 garlic cloves, sliced
1 tablespoon (15 mL) of ras el hanout
½ cup (125 mL) of pistachios
½ cup (125 mL) of kalamata olives
½ cup (125 mL) of halved dried figs/prunes
½ cup (125 mL) of orange marmalade
1 cup (250 mL) of orange juice
The zest and juice of 1 lemon
½ teaspoon (2 mL) of salt
For the carrot mint couscous:
1½ cups (375 mL) of water
2 tablespoons (30 mL) of olive oil
1 teaspoon (5 mL) of any vinegar
1 carrot, shredded
Leaves from 1 bunch of fresh mint, sliced
1 cup (250 mL) of couscous
½ teaspoon (2 mL) of salt
Match your favorite heavy skillet with a tight-fitting lid and medium-high heat. Splash and swirl in enough vegetable oil to thinly coat the bottom of the pan. Add the chicken thighs and sear the first side until golden brown and crusty, 4 to 5 minutes. Flip and sear the second side until it's equally golden brown. The goal here is not to fully cook the meat but just to add lots of brown flavour while the pan temperature is high. Reduce the heat to medium and transfer the chicken to a plate.
Add the carrot, onions and garlic to the pan. Sauté for a minute or two, heating through. Sprinkle in the ras el hanout and sauté for a minute or so more, softening textures and brightening spice flavours. Stir in the pistachios, olives, figs, marmalade, orange juice, lemon zest and juice, and salt. Bring the works to a slow, steady simmer.
Return the chicken and any juices to the pan, cover tightly, lower the heat further, and continue to gently simmer until the thighs reach an internal temperature of 75c (165 f), about 15 minutes.
While the chicken is simmering, prepare the couscous. In a small pot, bring the water, olive oil, and vinegar to a steady simmer, stirring along the way. Turn off the heat. Stir in the carrot, mint, couscous, and salt, then immediately cover with a tight-fitting lid.
Let rest for at least 5 minutes—long enough for the chicken to catch up! Dinner is ready to eat now, but if you have time for maximum tenderness, adjust your heat to the lowest setting and carry on simmering the chicken for another 45 minutes or so.
Chicken is easily cooked and just as easily flavoured. Its Moroccan street cred goes up with ras el hanout—literally "best of the shop"—a custom blend of the best spices in the shop by the bargaining merchant. Just like the blends I tasted in the casbahs and souks of Marrakesh.