Recipe for the road
Tasty chicken burritos are an easy recipe for the road
by Lisa Crane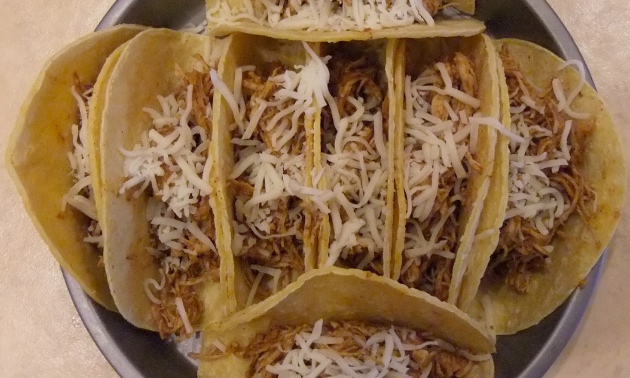 Janet Schwieger has been travelling down to Arizona for years during the winter. Schwieger spends her summers at home in Crawford Bay, British Columbia, producing her world-famous brooms at her artisan business, North Woven Broom Co. She shared one of her favourite recipes with us—chicken burritos—and said they are delicious and easy to make.
"Make more for yummy leftovers," said Schwieger.
Chicken Burritos
Ingredients
2 skinless boneless chicken breasts (can be frozen)
mozzarella cheese
corn tortillas
½ cup tomato sauce (V8 juice will do)
¼ cup red salsa
1 tsp ground cumin
2 cloves garlic, minced
Method
Place chicken and tomato sauce in a medium saucepan over medium-high heat. Bring to a boil, add the salsa, cumin, garlic and chili powder. Let simmer for 15 minutes, or longer if frozen.
With two forks, start pulling the chicken meat apart into thin strings. Cover and continue cooking pulled meat and sauce for another 10 to 30 minutes (or longer). Taste for tenderness.
Add more water if mixture is too thick. It should look red and sauced.
Wrap chicken and grated mozzarella in a tortilla, set in a baking dish and sprinkle mozzarella shreds on top. Bake at 350 degrees for five to 10 minutes until slightly crisp.