Five-spice steak
Tara O'Brady promises an incredibly soft and tender steak
Submitted by Tara O'Brady —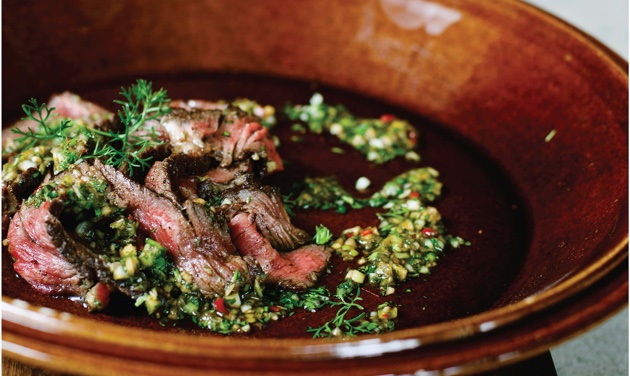 Food blogger Tara O'Brady has published a cookbook called Seven Spoons, which is a collection of Canadian cuisine. She has sent us a sample of her recipes with this Five-spice steak.
Five-spice steak
This might smoke up the kitchen, but it is worth it. The five-spice powder is fused to the steak with the blistering heat of the pan, making for a raspy, sizzling crust. It is finished with a quick, flavoursome sauce of herbs, chiles, and rice vinegar, rounded out by toasted sesame oil. The anointing works like a late-addition marinade, not only dressing the meat but also seeming to keep it incredibly soft and tender.
Serves 4 to 6

1 bone-in rib steak, 2 inches (5 cm) thick, weighing approximately 1½ pounds (680 g)
1½ teaspoons Chinese five-spice powder
1 teaspoon medium-grain kosher salt
½ teaspoon freshly cracked black pepper
2 teaspoons toasted sesame oil
1 clove garlic, minced
1-inch (2.5 cm) piece of fresh ginger, peeled and minced
1 small red chile, stemmed, seeded and minced
1 tablespoon unseasoned rice vinegar
2 teaspoons tamari
1 teaspoon natural cane or light brown sugar
3 green onions, white and light green parts only, minced
2 large handfuls of cilantro leaves and tender stems, chopped
Season the steak all over with the five-spice powder, salt and pepper. Dab on the sesame oil with a brush.
Place a large cast-iron pan over medium-high heat. Once the pan is good and hot, lay in the steak. Let it cook, undisturbed, for 2 to 3 minutes, then check for even colour and move the steak around if necessary. Keep shuffling until well browned, 2 to 3 minutes more. Flip the steak, and continue to cook until the second side is equally charred and cooked to your liking. (An instant-read thermometer inserted in the thickest part, without touching bone, should read 120°F (50°C) for medium-rare, and will take approximately 3 to 5 minutes after flipping to the second side.) Set the steak aside and reduce the heat to medium-low.
Add the garlic, ginger, and chile to the skillet and cook, stirring, for 1 minute. Stir together the rice vinegar, tamari and sugar, then pour it into the pan, scraping up any browned bits and allowing the liquids to reduce, about 1 minute. Scrape the sauce into a small bowl with half the green onions and half the cilantro.
Present the steak whole at the table, or slice across the grain and arrange on a platter. With either, pour some of the sauce over the meat and shower with the reserved green onion and cilantro. Offer the rest of the sauce alongside.
Excerpted from Seven Spoons: My Favorite Recipes for Any and Every Day by Tara O'Brady. Copyright © 2015 Tara O'Brady. Published by Appetite by Random House, a division of Random House Canada Limited, a Penguin Random House Company. All rights reserved.