Cook for the Cure with this sweet treat
Treat your party guests to these delicious cupcakes
by NewsCanada —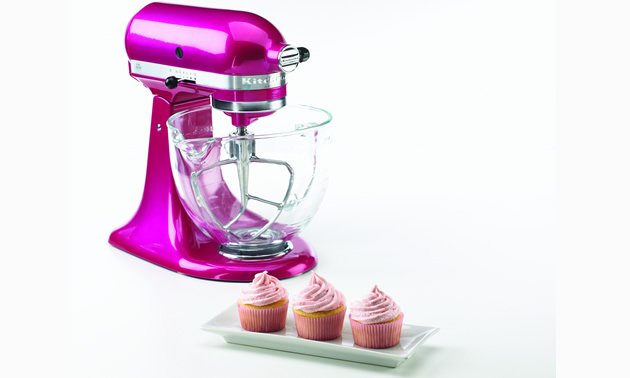 (NC)— October is Breast Cancer Awareness month and a great way to show your support is by hosting a fundraising party. Cook for the Cure, presented by KitchenAid, makes this easy by turning entertaining into fundraising simply by asking your guests to make a donation to the Canadian Breast Cancer Foundation in place of traditional hostess gifts. Register your party online at www.cookforthecure.ca and KitchenAid will pitch in $50 to help the cause.
Why not thank your guests with a delicious treat like this cupcake recipe from world-renowned chef and KitchenAid Canada spokesperson, Lynn Crawford—they're sure to be a hit with any party-goer.
Lemony cupcakes with strawberry frosting
Courtesy of Lynn Crawford and KitchenAid
Cupcakes
Makes 12 cupcakes
Ingredients
• 1 ¼ cups flour
• 1 tsp baking powder
• ¼ tsp salt
• 1 cup sugar
• ½ cup unsalted butter, softened
• 2 eggs
• ½ cup plain yogurt
• 2 tsp lemon zest
• 3 tbsp lemon juice
• ½ tsp vanilla extract
Strawberry frosting
• ½ cup whole strawberries, washed and stemmed
• 1 cup (2 sticks) unsalted butter, firm and slightly cold
• Pinch salt
• 3 ½ cups icing sugar
• ½ tsp vanilla extract
Directions
Preheat oven to 325˚F and line a muffin tin with paper liners. In a large bowl, mix together flour, baking powder, and salt. In a KitchenAid Stand Mixer, on medium-high speed, cream butter and sugar until pale and fluffy. Add eggs until incorporated. Add yogurt, lemon zest, juice and vanilla. Mix until smooth. Add flour and mix just until smooth. Scoop batter into paper liners. Bake for about 25 minutes. Let cool for 10 minutes. Remove from pan and let cool completely before frosting.
Place strawberries in a food processor and puree. In stand mixer bowl, beat together butter and salt on medium speed until light and fluffy. Reduce mixer speed and slowly add icing sugar; beat until well combined. Add vanilla and three tablespoons strawberry puree. Mix until just blended. Frosting consistency should be dense and creamy.
Everyone needs a treat, but eating healthy foods, such as fruit and vegetables, is one way to reduce the risk of breast cancer. To find out more about reducing your risk, please visit cbcf.org.
Celebrate the 10th anniversary of this popular fundraiser by visiting www.cookforthecure.ca.