Classic peanut butter and jelly gets a supreme makeover
by News Canada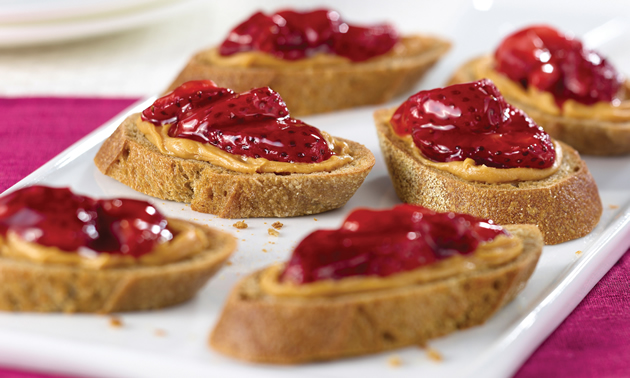 (NC)—This reduced-sugar twist on the classic peanut butter and jelly sandwich was created for those who live with diabetes—and for those who simply love this lunchtime classic. More tasty recipes can be found at www.peanutbureau.ca.
PB and Roasted Strawberry Canapés
Makes 24 canapés
Ingredients:
3 cups (750 mL) strawberries, hulled and sliced
2 tsp (10 mL) cornstarch
2 tbsp (30 mL) maple syrup
2 tsp (10 mL) balsamic vinegar
¼ tsp (1 mL) freshly ground pepper
¼ tsp (1 mL) sea salt (optional)
¾ whole grain baguette (about ½ lb/250 g), sliced into 24 thin slices
½ cup (125 mL) natural smooth peanut butter
Directions:
1. Preheat the oven to 350°F (180°C). Line a large, rimmed baking sheet with parchment paper. Toss the strawberries with the cornstarch. Stir in the maple syrup, balsamic vinegar, pepper and salt (if using). Spread evenly on the prepared sheet.
2. Roast the strawberries in the oven for 30 minutes or until softened and juices have thickened on the sheet. Scrape the strawberries and any juices into a bowl.
3. Meanwhile, bake the baguette on a second baking sheet for 5 minutes, or until lightly toasted, turning once. Cool to room temperature.
4. Spread about 1 tsp (5 mL) peanut butter on each slice of toasted baguette. Top each with a spoonful of the strawberry mixture.
Per serving (2 canapés): 146 calories, 6 g fat, 1 g saturated fat, 0 mg cholesterol, 124 mg sodium, 18 g carbohydrates, 3 g fibre, 7 g sugars, 5 g protein. Source of fibre.
Note: If you add the optional sea salt, the sodium increases to 158 mg per serving.
Tips:
• If strawberries aren't in season, substitute 3 cups (750 mL) unsweetened, individually quick frozen sliced strawberries. Spread out on a baking sheet lined with paper towel until thawed. Roast for 20 minutes.
• Reserve any leftover roasted strawberries in an airtight container in the refrigerator for up to 4 days. The toasted baguette can be stored in an airtight container at room temperature for up to 2 days.
• The strawberries are also delicious when spooned over a yogurt parfait or frozen yogurt as an occasional treat.