A burger treated like a steak
Tara O'Brady sent us her secret for a great burger
Submitted by Tara O'Brady —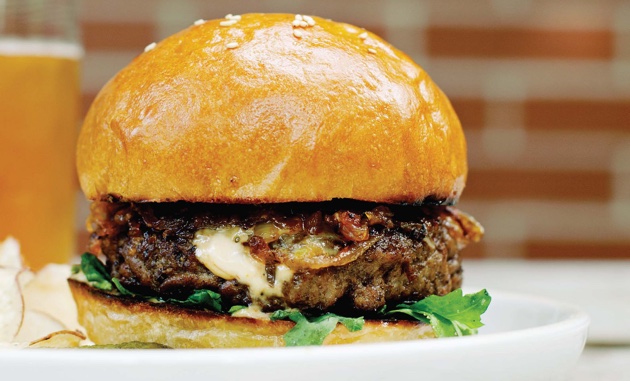 Blogger Tara O'Brady has recently published a cookbook called Seven Spoons. O'Brady shares stories and recipes from her Canadian home in her cookbook and she has shared this recipe with us:
I love a proper burger. Full stop.
For me, a burger made with pride offers one of those rare moments of true, greed- allaying, glorious pleasure.
The logic for this sandwich is that since a burger is chopped-up steak, it should be treated accordingly; which is to say, cooked in butter and not much else.
So, here there's just beef, pepper, and butter blended with white miso. The funked-up butter bastes the burger in salty richness, seeping through the patties and browning in the pan. The collected milk solids then cling to the meat and contribute to its chestnut-coloured crust. It's not fancy—rather unabashedly unrefined, actually—and, it's gorgeous.
When choosing my beef I look for fat content first, aiming for 20 per cent fat. As far as cut, chuck and brisket are great, and so is short rib, especially when mixed with some sirloin. Start with fresh ground meat from a reputable butcher or grind your own, then you can cook the beef to your liking. Prepackaged beef should always be cooked through, registering 160°F (70°C) in the middle (before resting).
The recipe only reads longish because I'm chatty. Make it once and you'll be a pro.
Serves four.

Burgers
1 and 1/3 pound (600 g) ground beef
2 tablespoons (30 g) unsalted butter
1 to 2 teaspoons white miso, depending on strength and brand
Freshly cracked black pepper
4 banana shallots or 1 sweet onion, peeled and thinly sliced
To serve
4 small burger buns or English muffins
Flaky sea salt
Thin slices Pecorino Romano or Gruyère (optional)
Lettuce leaves
House Burger Sauce
(recipe follows)
To make the burgers, on a baking sheet, divide the beef into 4 equal portions. Use gentle, cupped hands to form into patties, each 2/3 inch (1.7 cm) thick and 4 inches (10 cm) wide, with a divot in the center to compensate for swelling as the patties cook. The beef should barely hold together, and crags are character. Cover the meat with plastic wrap and refrigerate until you are ready to cook, up to 1 day.
In a small bowl, mix 1½ tablespoons of the butter with the miso. Get a 10- to 12-inch (25 to 30 cm) cast-iron skillet completely hot over medium-high heat. Liberally season the patties with salt.
Of course you can use whatever additional toppings you'd like. I like sharp mustard, or pickled jalapeño pepper on both sides. Place the patties in the skillet along with the remaining ½ tablespoon butter. Cook until deeply browned and beginning to char, 3 to 4 minutes. After the first minute, or once they've firmed up, the patties can be shifted to ensure even cooking. If they stick, use a thin spatula to carefully pry them from the pan. Don't worry if the surface tears; adding texture will help form a layered crust. Flip, then spread one-quarter of the miso butter on top of each burger. Cook, shuttling as needed, until the meat is cooked to your desired doneness, 4 minutes or thereabouts for medium. Turn the burgers a few times in the butter so they are glazed and shining, then transfer to a warmed plate.
Turn the heat under the pan to medium and add the shallots. Let them go beautifully soft, stirring regularly for 10 minutes, more or less. There shouldn't be need to season with salt because there will be loads of flavor in the pan, but I like a little more cracked pepper.
To serve, split and toast the buns or English muffins. With a fork, pile on the shallots. Place a burger on top, add a miserly sprinkle of salt for crunch, and brush on some of the butter left in the shallot pan. Top with the cheese, then the lettuce. Spread the second half of the buns with House Burger Sauce, then press them down firmly to complete the burger. Feast.
House Burger Sauce
Makes enough for 4 burgers
½ cup (120 ml) mayonnaise, quality store-bought or homemade
1 tablespoon ketchup
1 teaspoon dried mustard powder (or prepared yellow mustard)
2 teaspoons minced bread and butter pickles, plus ½ teaspoon of their brine
⅛ teaspoon sweet or smoked paprika
Freshly ground black pepper
Mix all the ingredients in a small bowl before you start with the burgers. Cover and refrigerate, so the flavors have a chance to get chummy. Chilled, it will keep for 4 days.
Excerpted from Seven Spoons: My Favorite Recipes for Any and Every Day by Tara O'Brady. Copyright © 2015 Tara O'Brady. Published by Appetite by Random House, a division of Random House Canada Limited, a Penguin Random House Company. All rights reserved.