Top things to see and do in Red Deer
Walking, history and lively performances are some of the great reasons to choose to visit Red Deer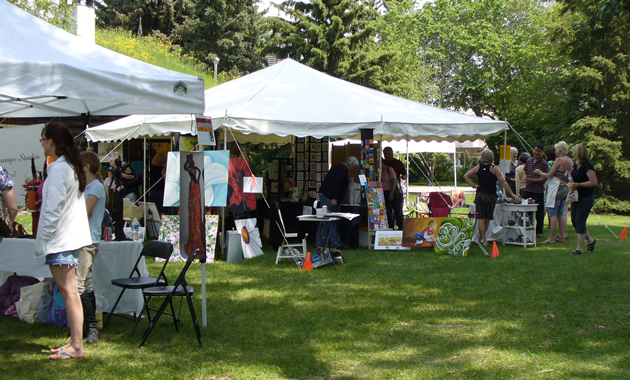 Red Deer, conveniently located between Calgary and Edmonton, is a great community. It offers an array of activities for visitors while still being a manageable size. There is truly something for everyone, as our get-started list demonstrates.
1) Museum + Art Gallery, two great worlds
Affectionately known as the MAG, Red Deer's Museum + Art Gallery offers the best of two worlds. Rotating and permanent exhibits give visitors an insightful glimpse into Red Deer's past. It also features an extensive collection of artwork that highlights both local artists as well as some impressive national and international pieces. Entry includes exhibitions, programs and activities. At only $5 for adult daily admission, the MAG provides an opportunity that shouldn't be missed.
2) Birds of a feather
The Ellis Bird Farm is absolutely the place to go if you want to spot some of our amazing feathered friends. Also on site is a popular tea house and lovely trails that lead to a variety of gardens. This non-profit organization also serves as a working farm, but is primarily dedicated to the conservation of birds, including mountain bluebirds. There is no cost to visit the Ellis Bird Farm, although donations are appreciated.
3) The centre of it all
The biggest of all Red Deer's festivals, CentreFest brings something for everyone with its packed program of entertainment. Taking place in late July, the event summons performers from around the world and transforms Red Deer into a particularly vibrant venue. The emphasis is on street performance so be prepared to spend time outdoors. In keeping with the busker spirit, entrance is free but top up your pocket at the change tent to show your appreciation for your favourite acts.
4) All aboard
The Alberta Prairie Railway Excursions are actually based in Stettler, Alberta, about one hour east of Red Deer. It's worth the drive, either as a stellar opportunity for railroad enthusiasts, or just an enjoyable outing for those who like relaxing with a glimpse to the past. Each excursion is pulled by an original steam or diesel locomotive, which may be held up by bandits at some point. All fares come with a buffet dinner and many include various forms of entertainment. Reservations are recommended.
5) Enjoy the outdoors
The area surrounding Red Deer, as well as the city itself, boast exemplary trail systems for those who enjoy the outdoors. Among the sites is Gaetz Lake, which is managed by the Waskasoo Environmental Education Society. This society also offers several excellent interpretive sites including Historic Fort Normandeau and the Kerry Wood Nature Centre. Get ready to start the discovery—Red Deer has much to offer.