Plan for a fun family vacation in Red Deer
This Alberta city is celebrating a century of progress in 2013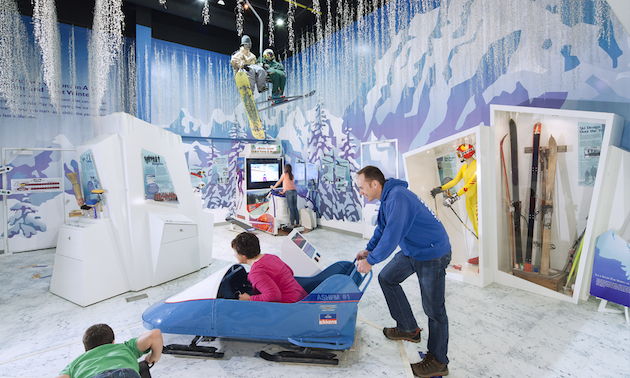 Red Deer's location in beautiful river valley parkland between Calgary and Edmonton makes it the ideal stopover destination on a roving tour of Alberta. A warm, bustling community and full roster of summertime activities mean there is something for every family member.
Alberta Sports Hall of Fame and Museum
"Our motto is More Than a Museum," said program co-ordinator Debbie Brigley of the Alberta Sports Hall of Fame.
Besides showcasing Alberta's athletic history, the facility offers interactive kids' events and activities including a climbing wall, a 200-metre wheelchair race, a putting green and a virtual sports machine where kids can play soccer, baseball, hockey and a host of other sports. They can also discover life before electronic gaming by playing authentic aboriginal games.
"Families can come and spend an hour or two or more interacting," said Brigley. "Parents like to read the history and learn about all the famous people in Alberta athletics, while the kids just play."
In addition to the permanent galleries, the Alberta Sports Hall of Fame and Museum also features changing exhibitions year round. Just $12 covers the whole family's admission.
Kerry Wood Nature Centre
At Kerry Wood Nature Centre families can enjoy a permanent exhibit documenting 50 million years of the region's natural history, said program co-ordinator Todd Nivens.
"There's a public art gallery, 300 acres of federally protected migratory bird sanctuary they can explore to their heart's content, and five kilometres of walking trails divided into four- and one-kilometre loops," he said. The centre loans out binoculars and activity packs so families can take it all in on four viewing decks and a boardwalk on a day trip, or discover the centre's full slate of drop-in summer programming, which includes rafting and other planned and supervised outdoor adventures.
Historic Fort Normandeau
Just west of Highway 2 off the CNE trail is Historic Fort Normandeau—the place where Red Deer began. The recreated fort sits on an ancient geological bedrock that forms a natural shelf under the river, said Niven.
"This is the place where First Nations people used to follow the elk and buffalo and Métis traders would follow the buffalo," he said. "When Europeans showed up, this was the only place to cross the river for 30 or 40 miles, so the story is of the peaceful coming together of these three groups and the looking ahead at what Red Deer would become."
Families can enjoy the recreated fort building and compound complete with a garden and chickens, an activity field, picnic benches and teepees on display.
The interpretive centre is undergoing a major renovation over the summer, but will reopen in the spring of 2014 with a host of new and exciting exhibits.