An Artwalk anniversary
Red Deer's yearly Artwalk is always an amazing place to indulge your creative side—this year it's pulling out all the stops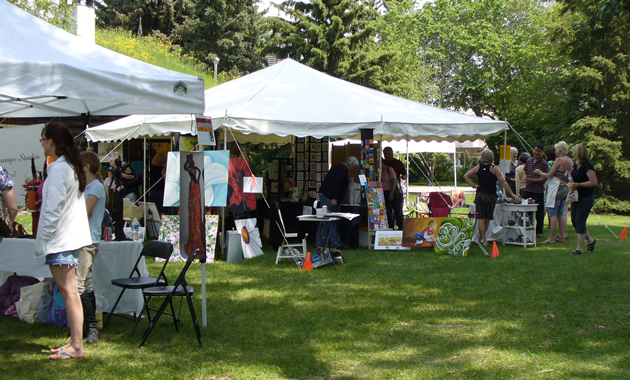 Every year Red Deer hosts an event that celebrates the vibrant abundance of art in the area. In June 2013, Artwalk turns 25, which makes this a particularly great time to plan a visit to explore the city's creative side.
Red Deer's annual Artwalk Festival is always an amazing opportunity to delve into the arts, and it is tied to the lieutenant-governor of Alberta's Distinguished Artist awards gala. The Artwalk itself is essentially an outdoor market that attracts some 80 vendors who represent every medium imaginable. As well, local bands play throughout the day and a number of other activities ensure that the day will be a raging success for anyone who chooses to join in.
Artists share their talents
"We also have four feature artists that we pay," said Diana Anderson, co-ordinator for the Red Deer Arts Council. "Two of them are demonstrating their work, so (it's) whatever they happen to produce at that time. The other two do interactive art activities for kids and adults. Usually it costs about a toonie to do those, which is about the only cost associated with doing anything on the site."
Jane Ash Poitras is one of these artists. A 2011 recipient of an Alberta Distinguished Artist Award, she will be demonstrating her work this year. Poitras is a visual artist whose pieces frequently focus on her First Nation heritage. The second event demonstrator is fibre artist Patti Morris. Her unique artform involves the use of textiles and she will show what is involved in the creation of a piece. Cindy Jones will be leading an interactive activity on how to create artistic brands, while ceramic artist Dawn Detarando will also be involved in helping make the day fun and interactive.
What's in store for those who arrive early
The Artwalk begins at 9 a.m. on June 15 and offers a full day ending at 5 p.m. Arrive a few days early, however, and Red Deer has some other cultural treats up its sleeve. An opportunity to view some of Red Deer's finest art takes place the preceding Thursday, on June 13.
"Artwalk also does an Artwalk Amble Bus Tour," said Anderson. "We take a group of about 40 people on a bus and, starting at the museum, we take them to the various sites around town. We have (artist) Pat Matheson talk about the history and art that's located downtown. This year we're going to the Red Deer College (to take) a look at the permanent collection, which will be really cool because a lot of people don't get in to see that."
Another initiative, called Artists About Town, starts on Monday, June 10. A number of artists will be producing works in various locations around the city. That same Monday also kicks off an entire week of activities being co-ordinated by several community groups that will involve visual, literary and performing arts. Boredom shouldn't be an issue, but any spare moments can be spent with a pamphlet describing Red Deer's absorbing public art, or at Red Deer's Museum + Art Gallery. All this, however, is just a lead-up to Red Deer's 25th Artwalk.
"We'll be in the recreation centre park behind the rec centre," said Anderson. "It's called Rotary Park East, and it's a lovely setting. We'll be under the trees, and on the grass. It's a very busy day, but it makes for a really nice festival."