Queen Creek: a haven for fresh and local food fans
Queen Creek boasts of newer vegetable farms, onion fields, a dairy, citrus, pecans and a popular olive grove
by Jackie Dishner —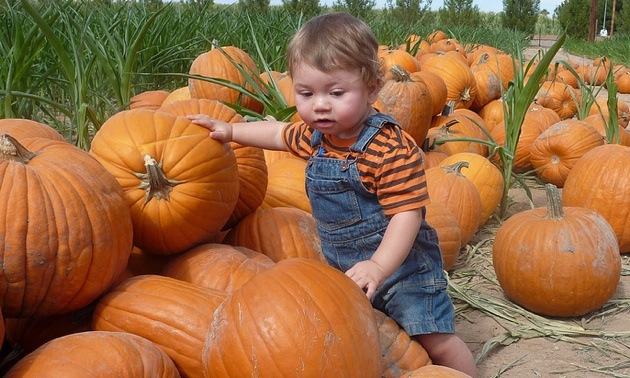 Recently voted one of the friendliest towns in America, Queen Creek, part of an urban farm community in southeastern Maricopa County and about a 30-minute drive east of central Phoenix off of U.S. 60, entertains its residents and visitors with year-round food fun, most of it hosted on family-owned farms.
Queen Creek and its neighboring cities, including Mesa and Gilbert, sit below the San Tan Mountains and boast long-time cotton fields, newer vegetable farms, onion fields, a dairy, citrus, pecans and a popular olive grove. Streets named after the families who founded this region—Ellsworth, Power, Sossaman, Combs and Schnepf—criss-cross the fertile valley. Fall is an especially fun time to go.
Start off by sampling much of the fresh and local produce grown or produced in the area at the Gilbert Farmers Market on Saturdays from 7 a.m. to 11 a.m. in the Historic Heritage District on Gilbert Road. One find you can try before you buy includes the coffee beans; they're hand-roasted at Bergie's across the street.
Nearby Agritopia, an urban farming co-op and community developed on the site of the former Johnston family farm on Ray Road, features a fruit and vegetable stand open 24/7. Simply pay on your honour. On the same property sits the converted maintenance garage, now the Coffee Shop, where you can buy baked goods so yummy they've been featured on Food Network's Cupcake Wars three times.
"It's the only repeat like that in the U.S.," said Michelle Streeter, regional spokesperson and director of communications for Visit Mesa.
For an added treat, Joe's Farm Grill, a burger and hotdog stand created from the Johnston family ranch-style home built in 1966, features fresh produce right off the farm. Plan to eat outside on picnic benches under 100-year-old trees and then take a self-guided tour through the farm and gardens.
Olives and pumpkins
Just a 10-minute drive away, on the other side of a large cotton field, is the Queen Creek Olive Mill, which, Streeter said, keeps reinventing itself. Pay $5 to learn how 16 varieties of olives are grown and milled at the farm, or sample the products—infused extra virgin olive oils, stuffed olives and tapenades—for free.
The gift shop sells cooking products and beauty supplies made with the extra virgin olive oils produced on the farm as well as wines and locally roasted coffee beans. You can also create your own gift basket on-site. Regular weekend events that bring in local artists and musicians are also a draw.
On October 16 the olive mill will serve a special five-course, family-style Tavalo dinner outside in the olive groves. It will feature produce from local farmers and highlight the hand-crafted olive oils, tapenades, vinegars and herbs grown and produced at the mill. Tickets are $50 per person.
Around the corner, every weekend in October Schnepf Farms celebrates a Pumpkin and Chili Party, where guests can wander through a corn maze, pick pumpkins, visit the petting zoo, watch fireworks and eat chili.
The farm's country store sells homemade pies, cinnamon rolls the size of your head and canned preserves, including peaches from the summer harvest. They're also now selling peanut and pumpkin brittle made by Brittle Bliss of Gilbert, Arizona.
If you're heading back toward Phoenix, stop off at one of the last orange groves in the greater Phoenix area, the Orange Patch in Mesa, for fresh Arizona lemons, oranges and grapefruit. They also sell fresh squeezed juice, organic honey and ice cream.
Jackie Dishner is a writer and author of Backroads & Byways of Arizona (The Countryman Press, 2010). She lives and writes from Phoenix.