Woodland neighbours
Whether expected or unexpected, Prince George has plenty of wild visitors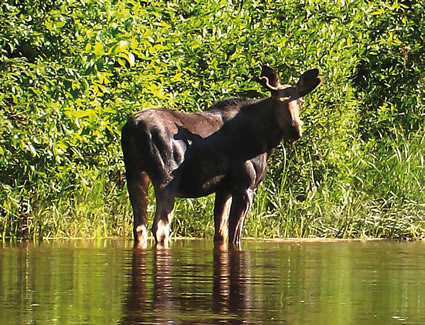 In the quest for classic British Columbia wildlife vewing, Prince George has to be one of the top destinations to visit. This welcoming city boasts a surrounding environment that will astound any nature buff. The geography includes everything from wetlands to lush pine forests—with rivers and lakes attracting all sorts of outdoor recreation enthusiasts. Local bird watchers will attest to the diverse range of bird species that inhabits the area, but avian varieties are not the only kind of wildlife that you can see during a trip to Prince George.
"Most visitors want to see moose and bears," said Annie Doran, marketing co-ordinator for Tourism Prince George. "Usually when they ask us at the visitor centre we tell them moose are best seen at UNBC at dawn or dusk—however, I have seen many moose during the daylight hours and in the middle of the night. Bears are usually found along Highway 16 East, heading towards McBride."
Living so close to nature can bring some unexpected visitors into town. Prince George residents have their share of unanticipated wild encounters.
"One of Prince George's finer wildlife moments was when the deer headed through the Tim Hortons drive-through on Victoria Street," said Doran. "They even made the local newspaper. Deer are seen along the railroad tracks along First Avenue near the river. We (also) had a fox outside the visitor centre last year—I think it must have come up from the river to find something to eat."