The world's first cactarium is a must-see in Palm Springs
Head to Moorten Botanical Garden in Palm Springs and explore this living museum of the desert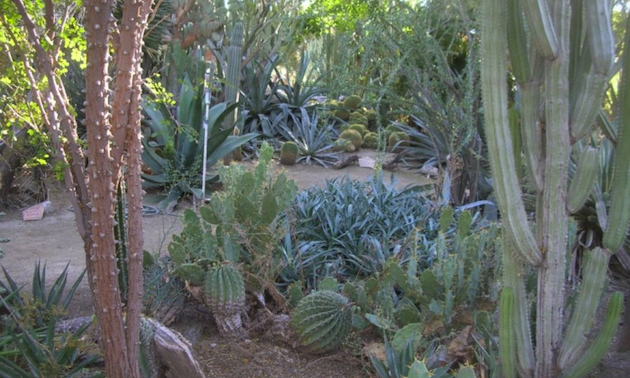 Located at 1701 South Palm Canyon Drive, Moorten Botanical Garden and cactarium is a desirable attraction to visit in Palm Springs, California. Treat yourself to an enriching adventure that will have you standing in awe while viewing cacti bigger than you.
Moorten Botanical Garden has been established in beautiful Palm Springs since 1938. A love of the desert motivated founders Chester and Patricia Moorten to develop an arboretum. This private arboretum was created to share extraordinary varieties of desert plants from all around the world. The passion the Moortens had for botany and animals gave birth to what is now known as Moorten Botanical Garden. Today their son Clark Moorten is the owner and operator of the museum, and has gained a reputation as an expert on succulent plants in the United States.
"The garden fosters the theme of the desert," said Moorten. "Cacti, succulents, desert trees and shrubs are displayed here. Interesting collections of plants, wood formations and rocks have been gathered from several different places."
Cacti, crystals and more
The museum does not contain just cacti; it has a little something for every desert lover. There are fascinating aspects such as glistening crystals, colourful rocks, ancient fossils and pioneer and gold mine relics. These are just a small portion of what is displayed at the museum.
"My parents were avid rock, mineral, fossil and crystal collectors. A lot of crystals such as selenite, quartz and onyx have been collected from all over the world," said Moorten. "We have fossils in rocks, dinosaur footprints and small animal footprints in sandstone. "
The world's first cactarium
Guided tours enable you to ask questions and learn about the diverse species of plants and to visit the world's first cactarium.
"Cactarium was a term my mother came up with in about 1940," said Moorten. "She thought it was a term suited for a terrarium for cacti. It is a fancy name for a greenhouse for climate and temperature control."
The exhibit contains rare kinds of cacti displayed at Moorten Botanical Garden. It truly is a wonder to be able to stand in the centre of this greenhouse, surrounded by the desert.
Sensational season
Palm Springs is located at the base of an 11,000 foot mountain surrounded by a wide range of desert terrain. There is incredible energy during spring time in the desert due to all the fresh growth.
"My favourite season is spring time in the early morning. When the first early morning light touches the mountain, it is purple," said Moorten. "When the sun hits it, it turns salmon pink and it is breathtaking. It is the most amazing sight."