Enjoy a date in Palm Springs
Celebrate the date at the International Date Festival in Indio, California.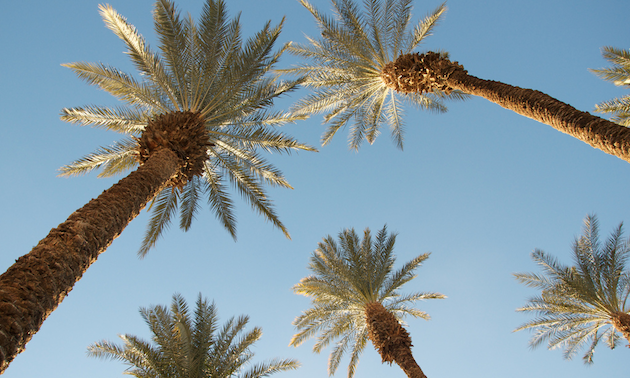 Since date palms were transplanted to the Coachella Valley from Algeria in the early 1800s, the area around Palm Springs has become the major commercial date-producing area in the western hemisphere. Today, date-centric culinary delights abound in the Date Capital of the World.
Riverside County Fair & National Date Festival
The largest event featuring the date is the annual Riverside County Fair and National Date Festival, which takes place in Indio, about 23 miles from Palm Springs. The festival celebrates the end of the date harvest in the desert region.
The first festival was held in 1921 in Indio's city park, and over the years it has grown to its present-day size of a 120-acre fairground, fusing a county fair feel with an Arabian Nights theme.
"Just in the last 10 years, the fair has grown," said Veronica Casper, principal development specialist at the County of Riverside Economic Development Agency. "Our attendance has reached all-time highs and continues to thrive. We are able to bring out more headliner entertainment thanks to our Concert Pavilion sponsored by Fantasy Springs Resort Casino.
Over 300,000 people attended last year's event, Casper said.
"It is a rich tradition in the Coachella Valley and generations have participated," she said. "It is largely a family affair. We get lots of families coming to enjoy the 10 days of the fair."
Casper said that the festival includes a variety of date vendors, a daily date cooking show sponsored by Dole, as well as a date recipe contest. She said traditional fair activities such as a midway with carnival games and rides, an animal nursery, camel and ostrich races, a demolition derby, monster trucks, rodeos and a competitive exhibit program are also popular attractions.
She advised first-time festivalgoers to "get there early and stay late."
"There's lots to see and do at the fair. We have plenty of shows, exhibits, rides and food to keep you entertained the whole day," she said.
The next festival is set to take place February 15 to 24, 2013. Presale tickets are available online and will be at a discounted rate through to February 14. Regular tickets are $9 for adults, $8 for seniors and $7 for children aged six to 12. Children aged five and under are free.
Shields Date Garden
Not able to make it to the Riverside County Fair and National Date Festival? There are a number of date growers in the Palm Springs area whose operations include stores and samples.
Shields Date Garden in Indio has been a pioneer in the date business since Floyd and Bess Shields immigrated to the area in the early 1920s. The Shields family bred their own varieties of dates, including their exclusive semi-dry, medium-sweet "blonde" and "brunette" date hybrids, and invented the date crystal, a blend of dates turned into a dry product that can be used in recipes.
According to Mark Goulet, current general manager of Shields, the store has been finding renewed success since the release of favourable nutritional information about dates, including their richness in antioxidants.
"It's been found that dates have more antioxidants than any other food in the world," said Goulet. "Dates are alive and well in the Coachella Valley, and we still produce 95 per cent of the dates in the United States. We're looking forward to the future."
Start your visit to Shields at the new café, which offers breakfast and lunch served on an outdoor patio with a rose garden, date palms and mountain views. Of course, many of the café's fresh, signature specialities incorporate healthful, delicious dates.
With the energy boost from your nutrient-rich date dish, you'll be ready to learn more about the local date culture through a visit to Shields' on-site theatre. The theatre keeps the Shields' passion for educating customers about date culture alive by continuously running shows that incorporate Floyd's original slide shows during store hours.
For those with an appetite for more, Shields' store also offers high-quality dates and date products for purchase so that you can create your own date dishes at home.
Workshop Kitchen + Bar
If you want to experience the culinary delights of the date without doing the work, the Workshop Kitchen + Bar recently opened its doors in the historic El Paseo building in uptown Palm Springs. Its menu is market-driven and consists of seasonal food highlights harvested from local farms, including the date.
According to owner and chef Michael Beckman, Workshop deals with Bautista Family Organic Dates.
"They do the local farmers markets, where I've been buying from them for years," he said. "Susan grows a very good variety of crops and is a valuable source for Workshop. She'll reserve things for us, and she'll plant items special for us as well. She's one of the only growers in Hemet that has her own water source, so it makes the process not only more feasible for her but green."
Beckman said the dates are harvested from August to October, and fresh dishes that include dates are available through to March. His regular menu features a smoked blue cheese-stuffed date wrapped in prosciutto and drizzled with a warm truffle honey over arugula.
"Our guests continue to tell us how needed this was in the desert," Beckman said. "The dishes reflect seasonality and are produce-forward, so I think they are fresh and exciting."
Palm Springs Fudge & Chocolate
What better way to wash down all of Palm Springs' culinary delights than with a famous date shake? Many local restaurants serve the signature shakes, but according to one admittedly and unabashedly biased Norah Mobarak, manager of Palm Springs Fudge & Chocolate, theirs are the best in town.
"I've tried other places, but honestly I think our date shake is the best in the valley," said Mobarak. "We use an original recipe of fresh dates, vanilla ice cream and milk. That's all—it's no secret. It's very delicious."