Discover the beauty of the desert in Death Valley and surroundings
Varied landscapes welcome you for hiking, RVing and learning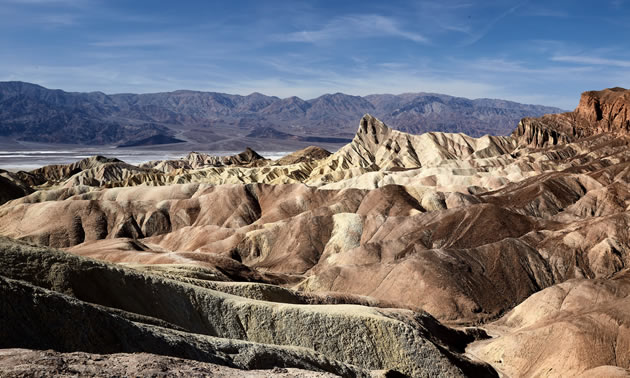 Death Valley National Park in California is a place of extreme weather conditions and fascinating desert scenery.
Fuelled by the still vivid and captivating memories from a visit 10 years ago, my husband and I recently returned to relive some of these moments. Some people may believe it is not worth more than a one-hour visit, but our story and pictures tell a different story. With more than 1.3 million hectares (3.3 million acres) of spectacular desert scenery, be ready to discover unusual wildlife, complex geology, quiet wilderness, and places of historical and cultural interest.
Exploring Death Valley
My husband and I simply love the desert. We spent days travelling on the flat roads of the hottest, driest and lowest national park in North America, stopping at many vantage points and taking in the silent and glorious landscape. We were never deterred by the temperature, which soared to 40 C (104 F) on our fall visit. We do not recommend visiting in summer as the weather gets unbearably hot.
Remarkable attractions lie in wait
Often referred to as the most fascinating place in the whole of Death Valley, Zabriskie Point is noted for its erosional landscape. The breathtaking view encompasses up to 360 peaks.
At Artist Palette, a serene and exquisite landscape of green and pink rock formations can be savoured. The delicate pastel colours are particularly vibrant at sunset.
Badwater Basin is an enormous and dry area of white crystals situated 855 metres (2,805 feet) below sea level. Through recurring freeze-thaw and evaporation cycles, the thin salt crust was pushed into honeycomb sheets. The same crystallized salts compose the jagged formations of the forbidding landscape of Devil's Golf Course.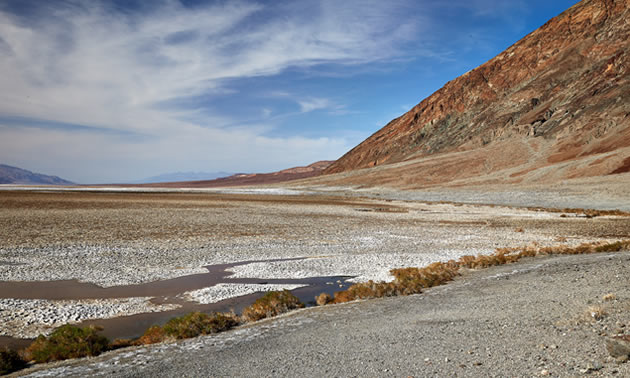 A lone tree on the dunes invites you to have a closer look at the Mesquite Flat Sand Dunes, the easiest dunes to visit in the national park. Although the highest one rises only about 30 metres (98 feet), the dunes extend over a vast area. Mesquite trees have created large mounds that provide habitats for wildlife.
Hike through a canyon for gorgeous rock formations
To really enjoy Death Valley, you must hike the trails. Most of these in the park are cross-country, up canyons or along ridges.
Golden Canyon: This canyon goes up through a long gradual incline through stunning scenery and cavernous canyon walls covered by mineral deposits.
Mosaic Canyon: After walking for about half a kilometre (one-third mile), this canyon narrows to a deep ridge cut into the mountain. Smooth, glossy marble walls enclose the trail as it follows the curvy canyon.
20-Mule Team Canyon: This pretty road was used to haul borax to the railroad town of Mojave 275 kilometres (170 miles) away. Teams of 18 mules and two horses fixed to large wagons ferried borax out of Death Valley in the late 1800s.
Titus Canyon: The road to this canyon is open only to four-wheel-drive vehicles. It is a deep, narrow gorge cut into the steep face of the mountain. The canyon features limestone rock formations, petroglyphs, and native plants and wildlife. Alone on the dirt road, we enjoyed a tailgate picnic at Leadfield Mine Ghost Town.
Best date farm
For a true date farm experience, visit China Ranch Date Farm, just outside the park. This family-owned and -operated farm is a little gem in a hidden oasis of the Mojave Desert. The Palm Grove was overflowing with dates on our visit in winter.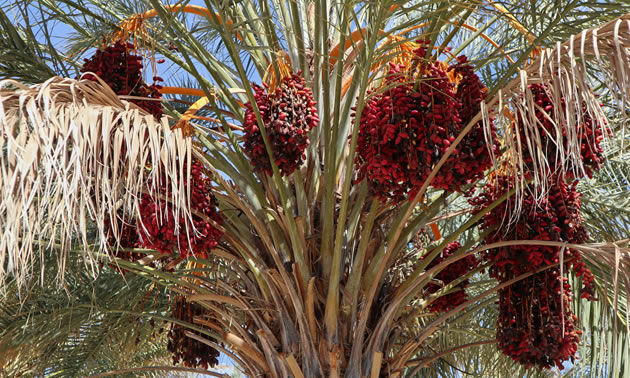 Mature date palms can produce 70 to 140 kilograms (about 150 to 300 pounds) of dates per harvest season. In order to get quality fruit, the bunches of dates are thinned and covered in nets before ripening so that the fruits grow larger and are protected from weather and pests.
Our favourite dates are Medjools, known for their large size and meatiness. Originally from Morocco, they are the most popular in the United States. China Ranch also cultivates its own hybrid dates that are very soft and sweet. In the small shop, we enjoyed a tasty date shake made with ice cream, milk and Medjool dates; date breads and cookies are also baked daily.