Sights to see in the community of Outlook
Outlook is a delightful place to go RVing, and there are several attractions to take in while you're there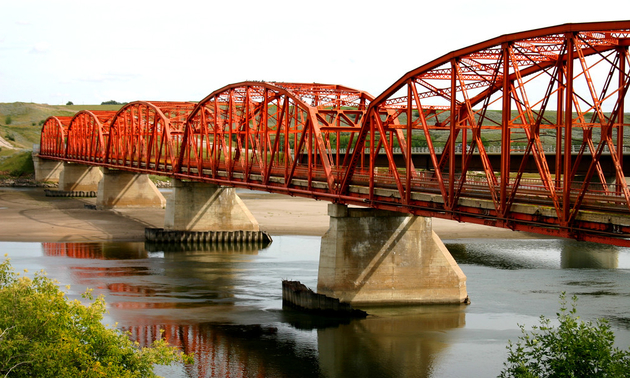 Small-town Saskatchewan charm is a thing, and visitors get a warm welcome in this province. Partly due to its proximity to pristine Lake Diefenbaker, the community of Outlook draws a number of travellers each year, and they never leave disappointed. If you're headed to this serene locale, take note of these attractions.
Outlook's most famous attraction, the Skytrail Bridge is a wonder to behold. While the bridge itself may be closed to the public, you can still get some amazing photos of the architecture. The Skytrail is the longest pedestrian bridge in Canada, made of steel and measuring 910 metres (3,000 feet) long and 46 metres (150 feet) high.
While you're in town, you can take a tour of one of the worlds largest earth-filled dams. The Gardiner Dam Interpretive Centre can be found one kilometre south of the dam on Highway 44, and it features a number of tourist-friendly amenities. Shop for souvenirs, take in interpretive displays, have a meal and watch a vintage film about the dam's construction. From the Coteau Creek generating station below, you can see pelicans, Canada geese and other wildlife - and there is a nearby public beach and picnic areas. For those who love to paddle, this is also the starting point for the Chief Whitecap Waterway Trans Canada Trail (The Great Trail) canoe route.
Get in touch with local history at the Outlook & District Heritage Museum. Guests can view more than 3,000 artifacts dating back to when the area was first settled. Be sure to get a photo of the replica 1970s CPR caboose. Depending on when you plan to visit, you can attend one of the various events and demonstrations that are hosted at the museum each year. The facility is open July and August, Monday to Saturday, 10 a.m. to 6 p.m. - if you wish to visit at other times during the year, you'll need to make an appointment.
While the Skytrail might be closed, you are more than welcome to take a stroll on the affectionately termed Big Orange Bridge (B.O.B.) and get stunning views of the river. This impressive piece of architecture was built in 1936, bringing Highway 15 over the South Saskatchewan River. The B.O.B. was converted to a pedestrian bridge in 2012.