Play a round in Outlook
Outlook's Riverview Golf Course has the venue and amenities to make your game memorable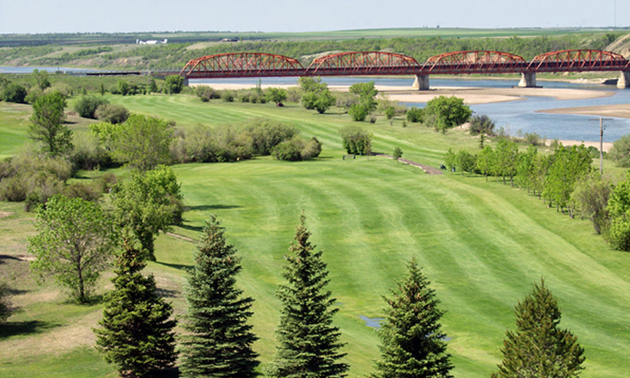 The Outlook and District Regional Park is home to the Riverview Golf Course, fittingly situated along the South Saskatchewan River.
This is the perfect place to go for unrushed golf in a relaxing atmosphere, and there are three different sets of tee boxes to give players multiple options. Rent your equipment and cart from the pro shop, and head out to enjoy the nine-hole grass greens at this premium facility. Afterward, you can have a meal at the licensed clubhouse and take in the views from its covered patio. There is also a snack bar, if you'd rather get something small to tide you over.
Don't forget to check the Riverside Golf Course's online schedule when planning your trip to Outlook to see what tournaments and special events will be taking place. The facility regularly hosts men's and ladies' golf nights, youth and couples events, seniors days and par-3 tournaments, to name a few.
If you want to inquire about a tee time, call the course at 306-867-8266. In addition, there is an active Facebook page, where you can find information about upcoming tournaments and other events. You can also see the excellent reviews given by others who enjoyed their visit and plan to return.
2018 Riverview Golf Course membership rates
Family/couple: $1,050 (includes immediate family members, with children 18 years old or younger)
Adult: $600
Intermediate (ages 19 - 24): $350
Junior (ages 18 and under): $135
Cart storage/tracking: $150
Green fees
Adult 9 holes: $23
Adult 18 holes/day rate: $35
Senior (ages 55 and over) 9 holes: $20
Senior 18 holes/day rate: $30
Junior (ages 18 - 11) 9 holes: $15
Junior 18 holes/day rate: $20
Jr. Jr. (ages 11 and under) 9 holes: $8
Power cart rentals
9 holes: $12/person
18 holes: $24/person
Trackage: $5/9 holes
Rickshaw rental
You can also rent a locker for a seasonal rate of $20 if you plan to make regular visits to this course.
Camping close by
Since you're presumably here on an RV excursion, you'll be glad to know there is camping available in close proximity to the golf course. The
campground at Outlook & District Regional Park
is within walking distance from the course and the river bank, and there are free showers and well-maintained bathrooms on site. Group sites are available, so you can get together with a few of your RVing golf buddies for a legendary weekend (or longer). There are sites with a view of the river, as well - so book early to ensure you get the best spot.
If you want to stay here this season, please keep in mind that phone and/or email reservations for this campground will not be accepted until May 18, 2018.