Outlook—it's for the birds
Thousands of sandhill cranes can be seen here every autumn
by Glynis Fediuk —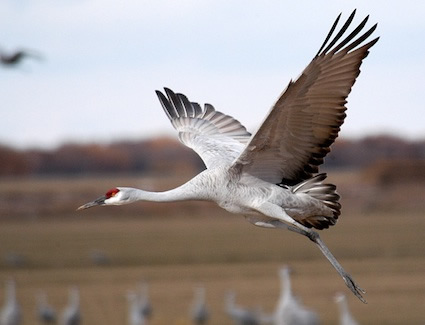 Every autumn, the fields surrounding Outlook are filled with large, grey birds with bright red foreheads. The flocks, which stop near Outlook during their fall migration, number in the tens of thousands.
"The impressive number of sandhill cranes is probably the most noteworthy thing from a birding point of view," said Stan Shadick, the president of the Saskatoon Nature Society. "You wouldn't see that in Alberta, so quite often people from Calgary drive to see the cranes. Outlook has a very impressive concentration."
Though the sandhill cranes are the main draw for birders, there are opportunities for birdwatching year round in Outlook. Shadick said migrating hawks and waterfowl are seen along the Saskatchewan River during the fall. In wintertime, birdwatchers head to the Gardiner Dam, 30 minutes north of Outlook, to see bald eagles and other wintering birds. In summer, the reservoir at the nearby community of Broderick attracts ducks and geese.