Discover a whole new Outlook
An agricultural hub, Outlook's history and future lies in the great outdoor areas that surround it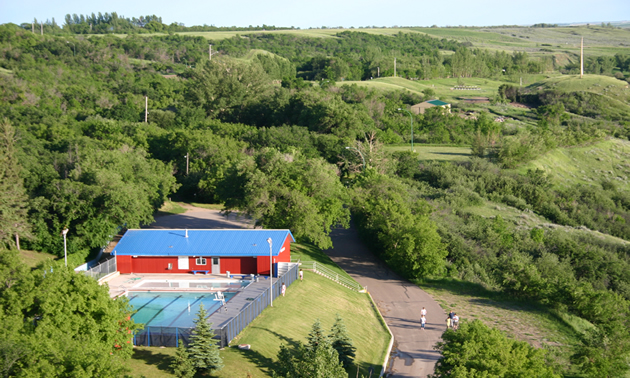 Travel to central Saskatchewan and discover the great outdoors in the town of Outlook. There are several places to visit and explore in this scenic area.
Canada's longest pedestrian bridge, the SkyTrail is 3,000 feet long and sits 150 feet above the South Saskatchewan River. A former Canadian Pacific Railway bridge, the SkyTrail is now a part of the Trans Canada Trail and has interpretive information about the project and its history at the town-side entrance to the bridge. It's a great place to get a birds-eye view of the entire town and the regional park directly below it.
Nestled along the river with the SkyTrail to its north and a picturesque former traffic bridge to its south, the 100 acres that make up the Outlook and District Regional Park boast recreation amenities galore for RVers. Offering spacious campsites, an outdoor swimming pool and plenty of trails, this park also has a nine-hole golf course.
The Canada-Saskatchewan Irrigation Diversification Centre is an active research centre that has helped to make Outlook an agricultural hub. The centre offers public tours and demonstrations that give an insider's look into irrigation and technology.
If you're looking for a story, you'll find plenty at the Outlook and District Heritage Museum. Knowledgeable staff can regale you with tales of the 3,000-plus photographs and artifacts the museum houses—all of which came directly from Outlook residents. The museum is located in the town's former Canadian Pacific Railway station built in 1909.
No trip to Outlook would be complete without seeing the engineering marvel that is the Gardiner Dam. Gardiner Dam was built in 1967 and helped to create the 225-kilometre-long Lake Diefenbaker, which lies adjacent to it. Here you can drive across the dam to the interpretive centre and enjoy one of the best sandy beaches and picnic areas Lake Diefenbaker has to offer. Learn about the building of the dam, tour the hydro power station that the dam supplies or take a hike along the Trans Canada Trail.