Celebrate Canada's 150th with an RV trip of a lifetime
Canada's 150th anniversary celebrations call for a cross-country road trip including these 10 spots.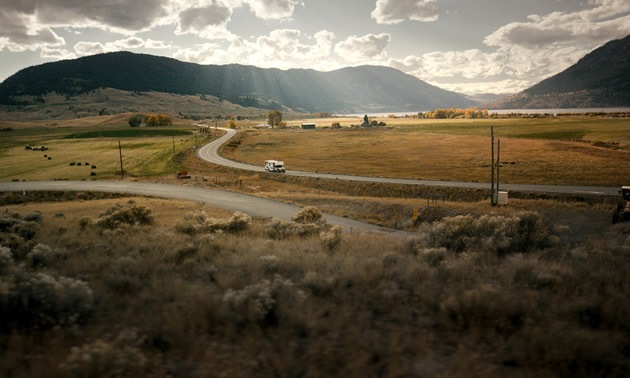 This year Canada is celebrating its 150th anniversary. We spoke to Shannon O'Callaghan, with Go RVing and show director of the Toronto Spring Camping & RV Show, about what campers should do to join in the festivities. Obviously, a cross-country road trip is the number one idea.
"I've only stayed close to home," she said. Most of us can probably relate. That alone is a perfect reason to explore.
O'Callaghan grew up camping with her family and still enjoys the great outdoors to this day. "It's the family time together. Just being able to enjoy your own backyard."
Family time is why most of us dust off our RVs each spring to head out into Canada's wilderness. That, and the views. "A lot of kids don't realize that there are such beautiful places in Canada," said O'Callaghan. "But I always come back to the family aspect. It's getting out and spending time with your family away . . . away from the city, away from televisions and enjoying nature."
Canada's 150th anniversary means it's the perfect time for everyone to get out of their comfort zones—even farther away from the television—and explore our massive country coast to coast. Together, we've come up with a list of the top 10 destinations to add to your cross-Canada road trip.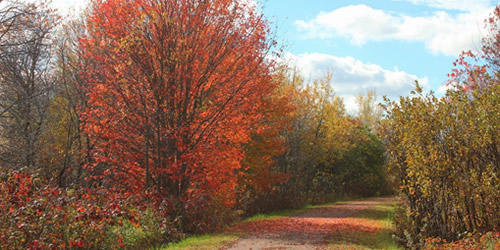 1. Prince Edward Island
Starting in the east, Prince Edward Island is first on the list of must-see camping destinations. This island province is small, so we suggest exploring its entirety. Stay along the coast, hike the Confederation Trail and relax in its small towns. The Confederation Trail is PEI's extension of the Trans Canada Trail. It travels from tip to tip of the island: Tignish marks zero kilometres, and Elmira is 273 kilometres.
"Everybody I know says 'You've gotta go there!' I would love to go there," said Shannon. "I just haven't had the chance yet. I would like to be right on the beach." It's not hard to find a beach on the island.
More: Tourism Prince Edward Island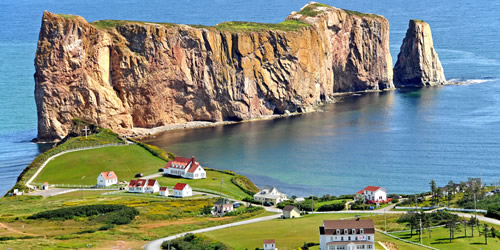 2. Gaspé, Quebec
A trip to Gaspé is not for the faint of heart—it's a bit of a trek away from the Trans-Canada Highway. The views from the northeastern corner of Quebec onto the Gulf of Saint Lawrence are well worth the journey. Campers can choose between a few parks within the area, as well as plenty of places to hike. Another favourite activity in Gaspé is whale watching along the coast.
More: Tourism Gaspésie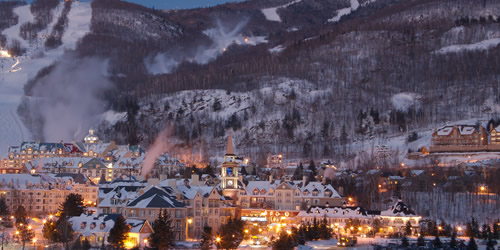 3. The Laurentian Mountains, Quebec
Southern Quebec is just as beautiful as its northern counterpart, especially where the Laurentians sprout out of the countryside. Mont Tremblant is an obvious must-see, but there are plenty of other mountains to explore in the area. The green rounded mountaintops are a dream for campers, hikers and bikers.
More: The Laurentian Mountains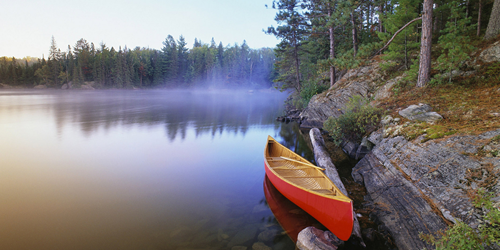 4. Algonquin Provincial Park, Ontario
Ontario is a hugely underrated province when it comes to beautiful campsites. Make Algonquin Provincial Park an official stop on your cross-country road trip.
"You don't even realize that these places are not too far from where you live," Shannon said, reminiscing on a trip to Algonquin years ago. "I remember kids around the campfire. I remember going fishing, then coming back to clean the fish, cook the fish and eat the fish. The whole experience is just something I will never forget."
More: Camp in Algonquin Park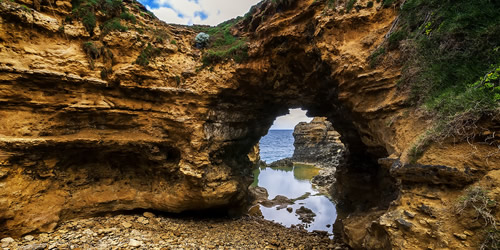 5. Tobermory, Ontario
A Canadian road trip would be incomplete without a stop at the Bruce Peninsula. Shipwrecks lie just below the shoreline—memories visible through Tobermory's pristine waters. Catch the ferry over to Manitoulin Island for another adventure before continuing northwest towards Manitoba.
More: Camp in Tobermory
6. Turtle Mountain Provincial Park, Manitoba
Continuing west, plan for a stop in Manitoba during your cross-country RV trip. Turtle Mountain Provincial Park is nestled in the province's far southwest, near the U.S. border. Stop here for camping, lounging by the lake and turtle spotting early to mid-summer.
More: Explore Turtle Mountain
7. Grasslands National Park, Saskatchewan
Stay near Canada's southern border for the next stop on your Canadian road trip to end up in Grasslands National Park, Saskatchewan. You've experienced East Coast island life, rural Quebec tranquility, Ontario's lakeside adventures and Manitoba's turtles. It's time for the endless grasslands of the prairies.
Grasslands National Park is known for its animal spotting and birdwatching. Coyotes, foxes, brown bears and prairie dogs roam the land; hawks soar above.
More: RVing in Grasslands Nation Park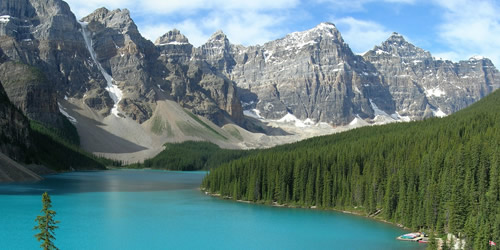 8. Moraine Lake, Alberta
Beautiful Banff National Park is where road trippers can rest in some of the most scenic spots in the world. Moraine Lake is known for its crystal clear water and Rocky Mountain location. Campers have a few options nearby but have to bike or drive to Moraine Lake via a winding mountain road for day trips only.
More: Banff and Lake Louise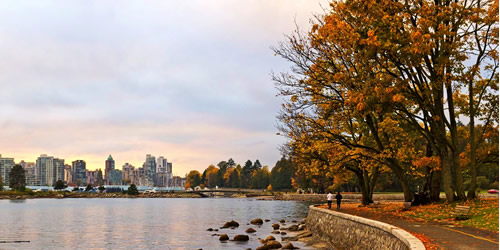 9. Stanley Park, British Columbia
Stanley Park is where the wild outdoors of British Columbia meets the urban lifestyle of downtown Vancouver. "I just thought it was beautiful," said Shannon. "We spent a few hours driving around. We parked and had lunch. It's just a beautiful place."
More: Vancouver RVing trip planner
10. Tofino, British Columbia
A quick ferry ride from Vancouver, and you've made it to the West Coast. The surfing town of Tofino is located in Pacific Rim National Park, so there will be plenty of camping available.
More: Tourism Tofino
A bonus suggestion on our list of special spot is this: camp in a friend or family member's backyard to celebrate Canada's 150th. The country we call home is what makes us family, after all. "It's another experience," Shannon said. "It can be a family reunion, but incorporate camping as well."
Where will you be camping this celebratory summer?