Find yourself enthralled
Grasslands National Park brings Saskatchewan's beauty to light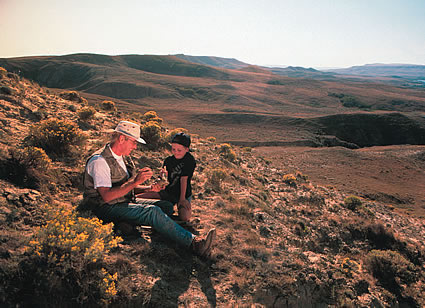 Saskatchewan is rife with majestic prairies. Grasslands National Park is one of the most famous places to appreciate the province's beauty, and to learn about the land's history.
"The west block (of the park) features the Frenchman River Valley," said Colette Schmidt, a communications services officer for the park, "the result of the last glaciation 12,000 to 17,000 years ago. The east block highlights the Wood Mountain Uplands and the badlands of Rock Creek."
Both the park's east and west blocks are examples of the mixed-grass prairie eco-region. In fact, it is the only national park in Canada to showcase this eco-region.
Bring your hiking boots
Grasslands National Park has one marked hiking route, and right now there are plans in the works to create two more during the summer season.
"The Friends of Grasslands National Park —Prairie Wind & Silver Sage—have developed a field guide for the Grasslands," said Schmidt, "that includes a section on hiking with eight suggested hiking routes. Five of them are in the west block and three (are located) in the east block."
There is also an eco-tour drive, a self-guided auto tour enhanced last summer with interpretive signs, new stops, porto-potties, picnic tables and a telescope. Visitors have the freedom to venture into the park on their own, as well. They can do so from any of the stops that are situated along the walking trails.
Set up camp
RVers will be enthused to hear that there are several quality campgrounds to choose from within a short distance of the park.
"The communities surrounding both blocks of the park provide campgrounds," said Schmidt. "There is front-country and backcountry camping allowed in both blocks of the park. Construction of Phase 1 of the campground development project commences this summer."