Road blog: the Pilsons head north
Settling into the rhythm of the road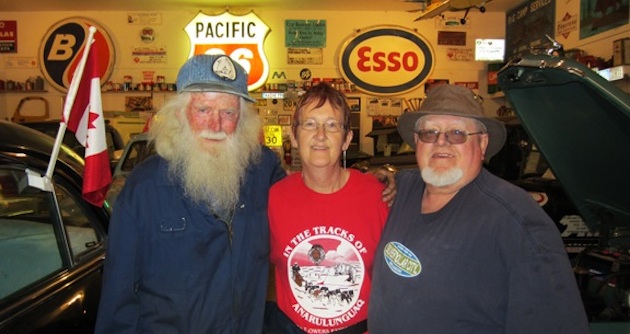 After RVing for 41 years we have learned to expect the unexpected, even with a lot of preparation, and to go with the flow. We have never been disillusioned.
It's been five years since we visited the Yukon and Alaska. One of the reasons for this trip is to re-establish our contacts for a specially planned caravan in 2014. The other reasons were to write this blog, write articles for the magazine and travel with friends from Calgary (Rick and Sandra) and a couple from Surrey (Stan and Marie) .
We planned to update this blog on a daily basis, but have been having problems accessing working WiFi sites.
Day 1
Well, here it is May 29 and as Murphy's Law states, anything that can go wrong at the most inopportune time will—and it did. Went out to hook up our trailer only to find the batteries didn't have enough power to operate the electric jack. After I ran the truck for about 20 minutes, the batteries were charged enough to at least get the trailer hooked up.
We headed out on the open road, heading north, only to run into a torrential downpour for about three hours before shutting down for the night at the Lions Campground in Whitecourt. Forgot to mention we had new shocks installed on the truck before leaving Calgary, only to find they did not work as well as the old ones. The original shocks had 264,000 kilometres on them. Stopped at the Kal Tire in Whitecourt to see what they could do, only to find out their mechanic was on holidays. But two of the staff, Taryn and Gwen, bent over backwards to help us. They called the Kal Tire in Grand Prairie and got us an appointment for the next day.
Day 2
Before leaving Whitecourt we decided to set up our hitch differently, hoping this would alleviate the porpoising effect we had experienced since leaving Calgary. It helped a little bit, but did not solve the problem. Have to mention the highway leading into Whitecourt, although paved, had lots of potholes and heaves, making for a less-than-comfortable experience.
When we arrived in Valleyview we checked into Sherk's RV Park. A beautiful evening with clear skies. Sherk's has been our favourite RV park on many of our previous trips to Alaska, Yukon and the Northwest Territories. It has 56 level RV sites with full hookups, well-maintained lawns between each site, free firewood, clean washrooms and laundry, friendly hosts—in other words a great place to stop. We only had a little rain today, so it was a nice day's travel.
Day 3 and 4
After leaving Valleyview we continued to Dawson Creek, stopping in Grande Prairie to get the shocks replaced. Found they only had replacements for the rear and not the front, which meant a return trip to Grande Prairie the next day. We were booked in for the next morning and they ordered the front shocks. Returned the next morning to be advised they couldn't find the front shocks, but as luck would have it, they did find and install them. One problem solved and I hoped it would be the last.
We stayed at the Northern Lights RV Park in Dawson Creek, which has new owners who have been fixing up the place. They now have the cleanest washrooms and the best showers we have ever seen in an RV park; in fact, they would be fabulous in anyone's home. Well worth stopping at this RV park for your visit to Dawson Creek and Mile Zero of the Alaska Highway.
Day 5
As we continued north, our next stop was Fort Nelson. In spite of rain following us for most of the day we enjoyed the trip, as the ride was vastly improved with the new shocks. Enjoyed the scenery, stopping only for a short break at Sasquatch Crossing hoping for a sighting. But as luck would have it we didn't get a glimpse of the evasive biped. The staff at Sasquatch Crossing told us the local sasquatch takes shelter when it rains.
When we arrived at our next stop, the Triple G Hideaway RV Park in Fort Nelson, we were happy to find it under new owners and greatly improved from our previous visits. Before dinner we walked next door to visit an old acquaintance, Marl Brown, who worked diligently to get the Fort Nelson Heritage Museum started. As usual, we found him in the garage with his favourite vintage restored vehicles. When we returned to the RV park we decided to treat ourselves to a dinner at the on-site restaurant. It was a great meal, good-sized helpings, great ambiance, good service and wall decorations that have to be seen.
Day 6
Getting up the next morning, we were excited to hit the road again as the sun was shining and it looked like it would be good day for travelling. Along the way we decide to stop at Tetsa River Services for a snack, which turned out to be the best cinnamon buns we have had for a long, long time.
Travelling along the highway beside Muncho Lake, we were treated to multiple encounters with stone sheep. Before stopping at the Liard Hot Springs for a quick dip in the hot pool, we were amazed to find that bison can now be seen before the Liard River bridge. After enjoying a dip in the hot pool we continued along the Alaska Highway, encountering at least 40 more bison including many females with their calves. Farther along we saw two black bears munching on grass along the highway.
Ending the day we pulled into the Coal River RV Park. Sat outside in lawn chairs enjoying the sunshine and just relaxing. For dinner we headed over to the on-site restaurant for their specialty bison burgers, which were very tender and juicy.
Day 7
After a leisurely start in the morning we stopped at Contact Creek Lodge to visit with some old friends, Richard and Dennie Hair. We had a great visit and reconnected with them, as we hadn't seen them for five years. Great to see they are still supplying gas and diesel, priced the same as in Watson Lake. If you travel this way, stop and say hi to them. They are really generous people who helped feed stranded motorists when part of the highway washed out in 2001.
We continued to Watson Lake to check out Sign Post Forest with its more than 72,000 signs from communities and people from around the world. After spending 30 minutes walking through the sign post forest checking out the signs, we found the City of Calgary sign we put up in 1996. The sign had a special finish on it to preserve it from the elements and vandals. It really worked—the sign was as good as the day we it put up.
While in Watson Lake we decided to check out the Northern Lights Space and Science Centre. We were very impressed with the two movies we saw in their special dome theatre. One movie was on the size of the universe and the other was about the Northern Lights. Both were well done, educational and entertaining. They were much better than the previous one we had seen years ago.
Continued on to Nugget City for the night at their Baby Nugget RV Park. We did our laundry, fuelled up and visited with Linda and Scott Goodwin, the owners. Our sites were in a nice wooded area of the RV park. The only downside of the day was when we pulled into our stall. Before we could get set up, the sky opened up and it rained buckets for about 15 minutes. Once it finished raining we finally got set up. Ate dinner and watched a little TV.
Our animal sightings for today included six wild horses, three more black bears and four more bison.
Day 8
Leaving our campground it was sunny but cool at 6 Celsius, but down the highway it started to drizzle. We had planned to stop and view Rancheria Falls, but hesitated with the coolness and the rain. The drizzle slacked off and we took the 10 minutes to view the falls. It was well worth the effort, as it was a great photo opportunity.
We stopped for lunch at the Continental Divide, at which two of the largest drainage systems in North America—the Yukon River and the Mackenzie River watersheds—are divided, for hamburgers we really enjoyed. Continuing, we stopped at our day's destination, Teslin, and pulled in to the Yukon Motel and Lakeshore RV Park.
While in Teslin we visited the George Johnston Museum and Heritage Park, which has displays of Tlingit traditional culture and Teslin history. The centrepiece of the displays is George Johnston's 1928 Chevrolet, which was strange since there was no roads at that time. We also dropped into the Teslin Tlingit Heritage Centre, which displays 200 years of Tlingit history and culture via static displays and movies. Lastly we visited the Yukon Wildlife Gallery, which is full of dioramas depicting animals in their natural habitat.
Day 9
Leaving in the morning with a sunny, nice day, we headed for our next stop at Carcross. We followed the Alaska Highway to Jakes Corner, turning off onto the Tagish Road. It was a beautiful, relaxing drive on this paved but narrow highway. After we left Tagish, we saw our first moose with its calf. They were moving so fast we couldn't get our cameras ready in time to snap a picture.
Visited Carcross's new visitors' centre, the new strip mall, the remnants of the S.S. Tutshi, and the WP&YR Railway Station. Stopped at the general store for a Rollo ice cream cone; it was darn good. We spent the rest of the day at the Carcross Territorial Park. It is nicely laid out, with free firewood and level sites. Hooked up our portable 80-watt Carmanah solar panel for the rest of the day and evening, finding it was easy to set up and hook up to our batteries. Cooked our dinners over an open fire. The beef sausages we had never tasted so good. Nothing like cooking over a fire to bring out the flavour.
Day 10
Left the campground at 10:30 a.m. and started for our next big stop, Skagway, Alaska—which just happens to be one of our two favourite communities and which was a key place in the Klondike Gold Rush of 1898. On arriving in Skagway we visited the Tourist Information Centre and met with Buckwheat to get ourselves reacquainted with the layout and any changes that had occurred since our last visit.
We then went to the Days of 98 show for their evening performance, which includes an hour of gambling with phony money (nobody wins but nobody loses—just plain fun). For a pre-show we were entertained by Michael Baish, who sang and recited a couple of Robert Service poems. You have to see him and the energy he puts into his performance. He does a top-notch job on the poems. The Days of 98 show is an entertaining glimpse into the history of one of Skagway's most colourful citizens.
Our stay in Skagway was at the Pullen Creek RV Park, located between the small boat harbour and the WP&YR station. This location makes it easy to walk to and visit downtown Skagway.
Day 11
The next day we shopped and took the Summit trip on the WP&YR Railway, which is a three-and-a-half-hour excursion on a narrow-gauge track. During the ride you will be continually informed of the history of the railway, the numerous sights along the way as well as the best photo opportunities. Even though we entered Canada at the top of the summit, no passports are required since we were not allowed to leave the train. If you visit nothing else in Skagway, don't miss this attraction. Even though this was our 11th trip on the train, we still found it enjoyable. This was our first excellent day, with warm temperatures all day in the mid to high 20s Celsius.
Day 12
We spent the next day just relaxing, saving our energy for a very busy time tomorrow. We capped the day off with a nice meal with two of our travelling companions at the Bonanza Restaurant. Another warm day with the temperature running in the high 20s Celsius.