Days 13 to 27: the northward journey continues
The best of the North's attractions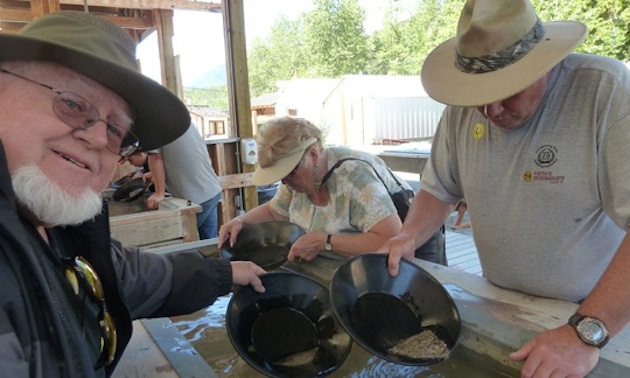 Day 13
This is our last day in Skagway and it is a busy one. We started by visiting the Klondike Gold Fields, where we meet our knowledgeable guide Klondike George. We then spent almost four hours enjoying all different activities, from learning about dog sledding from a professional musher to experiencing minus-40 degrees in a specially built building. We enjoyed panning for gold, touring a gold dredge that had been moved from the Klondike around Dawson City and learning about the making of a local beer, followed by a sumptuous meal of smoked ribs, chicken and salmon along with all the trimmings.
Immediately afterwards we visited Liarsville , another must-see attraction while visiting Skagway. It provides another all-you-can-eat meal followed by entertainment and gold panning. After this we returned to our RVs for well-deserved rest, as the temperatures during the day had been in the high 20s Celsius.
Day 14
As we bid a fond fair well to Skagway and headed towards Whitehorse, we started up the 12 miles of an 11 per cent climb to Canada Customs at Fraserway. After clearing customs we stopped at the Yukon Suspension Bridge to check it out. In the past we had only driven by. We were not only impressed with the facility, but also had the opportunity to try some bison chili that was absolutely delicious. We then continued on to our destination, arriving at one of our favourite RV parks in Whitehorse. We started staying at the Hi Country RV park in 1996 and have stayed here every trip since. It has lots of treed sites with both full and partial hookups, clean washrooms and showers as well as Internet. Looked forward to spending the next four evenings in the park.
Days 15-18
The weather continued to cooperate except for one torrential downpour that only lasted for 20 minutes. Luckily we were in Wal-Mart at the time so didn't get wet. It was nice to visit Whitehorse again and reacquaint ourselves with the attractions and people we had previously known. For Duane, the highlight was being singled out to go on stage at the Frantic Follies show—something you definitely don't want to miss when visiting Whitehorse—to become the recipient of the "Grand Exalted Yukon Order of the Garter" complete with souvenir garter.
With Whitehorse having played a significant roll in the building of the Alaska Highway, there is a lot of history in the community, so take the time to visit the following top-notch attractions: Miles Canyon Suspension Bridge, McBride Museum, Beringia Interpretive Centre, Yukon Transportation Museum, the Yukon Tourism building and the Old Log Church. Take the time to find the first high rise built in the Yukon (we'll give you a hint, it was built with logs). Another highlight for us both was meeting with the recently elected mayor of Whitehorse Dan Curtis to discuss a number of tourism issues.
Day 19
When we got up, we decided to skip breakfast and stop at the Braeburn Lodge for a cinnamon bun, the largest we have ever had, which has become a tradition for us. Steve makes them fresh every day. As far as size, you be the judge. After getting our fill we started north again, with a short stop at the Montague Road House before continuing on to Pelly Crossing for lunch and a visit to the Big Jonathan House, which shows the history of the local Selkirk First Nation. After lunch we continued on to Moose Creek Lodge for piece of pie and to "give blood" to the giant wooden mosquito. Continuing on, we proceeded to Dawson City for a step back in time and a true gold panning experience. Arriving in Dawson City we checked in to the Bonanza Gold RV Park.
Days 20-21
While in Dawson City we met with the original owners of a local RV park called Guggieville, which they have since sold and no longer exists. Along with Rick and Sandra we went to Diamond Tooth Gertie's and really enjoyed the fast paced can-can dancers, songs and interaction with the audience. We visited the well-laid-out Dawson City Museum as well as their train museum. Experienced the Tr'ondeck Hwech'in culture and history at the Danoja Zho Cultural Centre. Examined the old firefighting equipment and photos of fires in the history of Dawson City. Walked through the areas open to the public on the SS Keno. Visited the dome at 11:00 p.m. to enjoy the breathtaking view. Remember that at this time it is still daylight and you can see for kilometres in most directions. In fact to the north you can see all the way to the Ogilvie Mountains.
We also spent almost four hours with a third-generation gold miner as he explained modern methods and took us to a working gold mine, giving us first-hand knowledge of the equipment and processes as well as an opportunity to pan for gold. The tour was put on by Goldbottom Tours. It is well worth the time and cost if you are ever in Dawson City. We both were lucky in that we panned out gold from a non-seeded source.
It was brought to our attention that a new attraction was available: a real dog mushing kennel. So we decided to take this in. As it was on our route for the next day, we decided to stop there and spend the night on the property. The woman that runs the kennel, Kyia, gave us and our friends the most thorough, educational and enjoyable glimpse into the art and sport of dog mushing as well as Canada's first and only dog mushing museum. She spent over three hours explaining and showing us all aspects of the sport. She not only raises her own dogs but also trains and races 44 of them. When she talks you can see her passion for the sport and her love of the dogs. The name of the attraction is Slow R-U-S-H Kennels. It's well worth taking the time to visit.
Day 23
Shortly after leaving Chicken, Alaska, the road improved—with occasional short stretches under repair—until we reached Tetlin Junction, where we meet up with the Alaska Highway. Turning right, we headed for Tok (pronounce like coke), where we fuelled up at our first Alaska gas station. What a shock when we found diesel was cheaper per litre than in Calgary. Continuing on, we stopped at Delta Meat and Sausage to buy some snacks made of reindeer, buffalo and elk. Next stop was at Big Delta State Park, where we spent about 45 minutes walking around and visiting Rika's Roadhouse and outbuildings. We headed for the next stop of our adventure at the Riverview RV Park at North Pole, Alaska. When we arrived at the RV park it was still 28 degrees Celsius.
Day 24
On the majority of our previous trips to Fairbanks we have stayed at the Riverview in North Pole, Alaska, because of the size of the sites and its amenities. It's a Good Sam park and is a quiet place to spend the evenings. We have already booked it for our 2014 caravan. After a nice night's sleep we headed to the Morris Thompson Cultural and Visitors Center in Fairbanks, which is new since our last visit in 2008. It is well laid out, with a section displaying wildlife in its natural surroundings. It has a comfortable theatre showing appropriate movies on the area and is well-stocked with visitor information. Anyone coming to Fairbanks for the first time should visit this centre to get up-to-date information on the area from knowledgeable staff.
For the afternoon we went to Dredge No. 8 to learn about the history of gold in the Fairbanks region as well as try our hand at panning for gold. Lynda out-panned me, like she usually does. Then for a change of pace we visited the Georgeson Botanical Garden at the University of Alaska. The flowers were not plentiful, as everything was two or three weeks behind due to their long winter. Returning to the Riverview, we took a well-deserved rest before our next day of sightseeing.
Day 25
Getting up early the next morning, we went down to take a two-and-a-half hour ride on the riverboat Discovery on the Chena River where it meets the Tanana River. During the ride we got to watch a float plane take off and land. We saw a sled dog facility and a fish wheel in operation, visited the Chena Native Village and sampled a salmon spread on crackers. In the afternoon we visited the Fountainhead Antique Auto Museum, which not only houses some very rare restored vehicles but also has displays of authentic clothing appropriate to each vehicle's era as well as large historical pictures depicting auto transportation in early Alaska. Having visited auto museums in both Canada and the lower 48 states, we can say this the best we have ever seen. Highly recommend this to be added to your itinerary when visiting Fairbanks.
Day 26
For our last day in Fairbanks, we took the morning off to rest before tackling our visit to Pioneer Park to check out the relocated original old houses and cabins from Fairbanks history. We even went back to our childhood and took a ride on the narrow gauge railway which circles the park. Pioneer Park is also the home of the largest paddle wheel vessel ever built, as well as the original rail car that President Harding used when he visited Alaska. We capped off our visit to the park with an all-you-can-eat meal of prime rib, salmon, cod, potatoes, salads, beans, buns and a non-alcoholic beverage and a delicious dessert, followed by a visit to the Golden Heart Revue—which was delightful, humorous, fast-paced, entertaining show covering the history of Fairbanks.
Day 27
After leaving Fairbanks we headed north to Chena Hot Springs, a place we had always wanted to visit but never had the time on our previous trips. The drive proved to be beautiful, with awesome scenery enhanced by seeing six moose in a short section of the highway before we got to the facility. The only downside was the heat. Temperatures for the drive and two days at Chena Hot Springs were in the high 20s and low 30s. In addition, the mosquitoes bothered us whenever there was no breeze. But all in all it was great experience: we visited the Aurora Ice Museum, where they use LED lighting to enhance the ice sculptures, went swimming in the natural hot springs as well as the indoor regular pool, took a 45-minute ride on quads where we were lucky enough to see six moose including two calves, and learned about thermal energy and its applications. All the buildings at the facility are heated with thermal heat and they generate most of their power needs with thermally operated generators.