Days 28-45: all around Alaska
RV parks, museums and more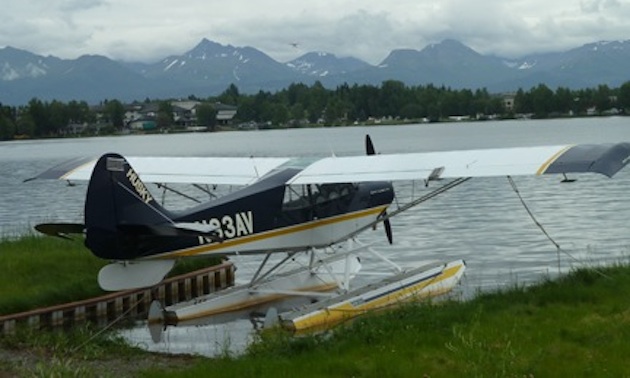 Days 29-32
Left Chena Hot Springs heading for our next stop, Denali National Park. The drive on the Chena Highway was uneventful, with no moose sightings, clear skies and temperatures in the high 20s. Once we cleared Fairbanks things started to change and the skies became hazy from a fire that had started to burn north of the Parks Highway west of Ester. We later found out the Parks Highway had been closed after we got to our RV park, Denali Motel and RV Park, and that highway traffic was only allowed using pilot vehicles due to limited vision with the smoke from the fire. Needless to say we didn't see Mt. McKinley at any of the viewpoints we had previously been able to see it. On our previous trips to Denali we have stayed at this RV park. It has full service sites, showers, clean washrooms, laundry and—you guessed it—souvenirs, along with spectacular views to enjoy from every site.
During the next two days we were unable to see Mt. McKinley due to the smoke and low cloud cover. We did get a partially clear day when we drove into the park as far as allowed, Savage River, approximately 21 kilometres from the park's entrance. On this day we were lucky enough to see a caribou just before the Savage River bridge.
When we arrived we went to the Alaska Cabin Nite Dinner Theater for a very entertaining show about the early years of Denali National Park and some of its colourful characters, accompanied by an all-you-can-eat dinner of ribs, salmon and all the trimmings.
The next day we went with our travelling companions Rick and Sandra for a guided scenic adventure with Denali Adventure Tours, which provides both quads or 4-wheel Rhinos. Having driven quads a couple of times in the past, we elected to use a Rhino, since it's easier to drive and can take two people. Although we didn't see any wildlife, the scenery was breathtaking, although a little dusty. The best part: we had a lot of fun and would do it again at the drop of a hat. If you ever visit Denali keep this attraction in mind; it's well worth the cost.
Days 33 and 34
As we left Denali there were overcast skies. We hoped they would open up and we could get a glimpse of Mount McKinley at one of the many good viewing stops along the highway. But no such luck. It began to rain, getting worse the further south we travelled. On this leg of our trip we originally had planned to stop at the community of Talkeetna, but with the rain being at its worst when we hit the turnoff, we kept going; maybe the next time. We continued on to Wasilla and the Big Bear RV Park for the evening. This was the first time we have stayed at this RV park. We found it clean with large level sites, full and partial hookups, clean washrooms, showers and a good-sized laundry. If you are ever in the area, would suggest this is a good one to stay at.
After spending a quiet night we headed for the Dorothy Page Museum, only to find it was closed on Mondays and Tuesdays. Too bad, since we've never been there before and were looking forward to visiting.
Our next stop was the Iditarod headquarters to learn about this famous 1000 mile dog sled race. We watched an interesting and informative movie on a previous race. If you are interested in a unique experience, take a ride on a training buggy pulled by a team of sled dogs. Continuing on being a tourist, we visited the Alaska Transportation Museum, where we spent an enjoyable couple of hours looking at the many exhibits inside and outside that displayed various modes of travel: planes, trains, boats and automobiles. If you're interested in learning about modern travel in Alaska, put this on your list for Wasilla. The only downside to our visit to Wasilla was Duane didn't get a chance to meet Sarah Palin.
Days 35-38
The morning we left Wasilla it was overcast and cool with a possibility of rain. We only had a couple of showers on our drive into Anchorage, especially when we visited the Costco in Eagle River.
Arriving at our usual RV park in Anchorage, the Golden Nugget, we hoped to get access to the Internet—only to find that it was almost impossible to hook up. In fact, we have found this to be true at most of the RV parks we have stayed at. We talked to the manager and he guaranteed that the new equipment they were getting installed would eliminate this problem at his park.
The next day we drove downtown to find a parking stall so we could take a narrated one hour trolley tour of some of the highlights of Anchorage. Our guide was well informed and humorous as he pointed out the features along the tour route, making it a fun and educational experience. We highly recommend that anyone visiting Anchorage take the time to climb on the trolley.
We then went to an ulu factory, the best place to buy this unique and versatile cutting tool. Theirs use surgical stainless steel for a long life and sharpness retention. We completed our set of ulus, buying one in a style we don't already have. We have six of them: in the kitchen at home, in our RV and the ones we use as visual aids at the RV show North Country seminars we do.
The next day, we went to the Alaska Native Heritage Center. It displays the different cultures of the indigenous people of Alaska using reproductions of the different houses they had lived in, as well as displaying examples of items unique to each culture. In addition, they have stage presentations showing examples of the dance, songs and storytelling of the different cultures. Indigenous artists display handicrafts they have made and also show how it's done. Depending on your interest level, you could spend anywhere from a couple of hours to a whole day there, learning the whole time. We have visited it numerous times over the years and never tire of the vibrant displays, interaction and artifacts. We cannot express strongly enough to take the time to stop in and visit this unique and educational attraction.
For our last day we decided to visit a local restaurant, the Sourdough Mining Company, for a delicious meal accompanied by their specialty: corn fritters served with honey butter. If that wasn't enough, we crossed the street to view the Alaska Wild Berry Factory with its 20-foot chocolate waterfall. We were given an informative tour of the candy factory ending with samples of the merchandise.
Day 39-41
Leaving Anchorage we ran into a bit of wind as we passed the Potter Marsh, a great place for birders to visit. The rest of the drive along Turnagain Arm was beautiful and scenic, even though the cloud cover was very low. Not sure if the tide was going out or coming in, but some of the mudflats associated with Turnagain Arm were visible. Although they might look safe to walk on, they aren't. Over the years people have been drowned by getting themselves stuck in the mud and have been unable to free themselves, even with help, before the tide came in.
Leaving Turnagain Arm, we started to climb as we continued on the Seward Highway, till we turned off and headed to Soldotna. Always on the lookout for something different, we noticed a sign for a charity fish fry while going through Cooper Landing. We decided to stop for lunch at the fish fry. What a great decision! We not only helped out with their charity but had a great meal of halibut, cod, shrimp and fries with all the trimmings. Continuing on to Homer, we stopping at the Homer Look-Out to see the Homer Spit, which juts out 4.3 miles into Kachemak Bay. Then we checked in to Homer Spit RV Park, located almost at the end of the spit.
Something we have always wanted to do but never had the time to was to take the ferry across Kachemak Bay to Seldovia. So on the next day we boarded the MV Kachemak Voyager for a 45-minute trip to Seldovia. We met Michael Opheim, a long-time resident, who showed around this picturesque community, explaining its history and pointing out everything along the 12 miles of roads in and around the community. It was a great time, topped off with halibut and fries at the Tidepool Café along with two of our travelling companions, Rick and Sandra. All in all this was a great experience. We spent the evening walking the beach, watching boats going in and out and people fishing from the shore.
We started off the next day by going to McDonald's to check our email. RV park Internet has been an abysmal failure. Most of the time their Internet either doesn't work or is so overloaded we couldn't connect. In case you have been wondering how come the blog updates have been less than regular, this is why. After checking our email we went to the Pratt Museum, spending a couple of hours checking out the displays and watching a movie on the McNeil Game Sanctuary and its brown bears. If you are interested in ocean mammals or brown bears, this is a must-stop while visiting Homer.
I hope that when you come to Homer you will have better weather than we did—cloudy and cool (mid to low teens)—except for our last day, when the sun came out as we were leaving.
Days 42-45
After leaving Homer it was nice to have clear skies and the opportunity to see the other side of Cook Inlet and two of the inactive volcanoes (Mt. Redoubt and Mt. Iliamna) as well as a drilling platform. Having not been to the town of Kenai since 2002, we thought we'd slip in and visit again to see what had changed. The first place we stopped at was the Kenai Visitors and Cultural Center. It is in a new building from our last visit. It is well worth the stop to see their interesting, educational and very informative displays. We took a short walk to visit both the newer and oldest Russian Orthodox churches.
After having our lunch we headed back on the road to get to our night's destination, Seward. The stretch of road before Cooper Landing was probably the worst highway we have travelled on since arriving in Alaska. Once we got to Seward, we found our stall in the Seward RV Park (Waterfront Park) located adjacent to Resurrection Bay. The RV park provides you with a fantastic up-close view of the vessels entering and leaving the harbour.
For the first full day we took the National Park Tour with Kenai Fjords Tours and were pleased to have beautiful clear skies, very little wind and small waves. During our 8-1/2 hour cruise we saw many different seabirds, mountain sheep, Dall porpoises, humpback whales, harbour seals and sea lions. On top of the great viewing, we also had a nice lunch on board as well as a buffet dinner on Fox Island. For us the highlight of the cruise was seeing a humpback whale breach, something we had hoped for on previous trips and have never seen.
Guess the excitement was too much for us as we had been scheduled to go out the next day on another tour but couldn't, as we both had bad headaches. So for the day we took it easy. For our last day we spent about two hours at the Alaska Sealife Center getting up close to birds, harbour seals and Woody, who is an approximately 1170-kg bull sea lion. In addition, you can observe the marine life in the waters around Alaska and Russia in the numerous aquariums throughout the facility.