Blue skies above, adobe down below: Everyone's in love with Santa Fe
Soak up the New Mexico sun in the rejuvenating community of Santa Fe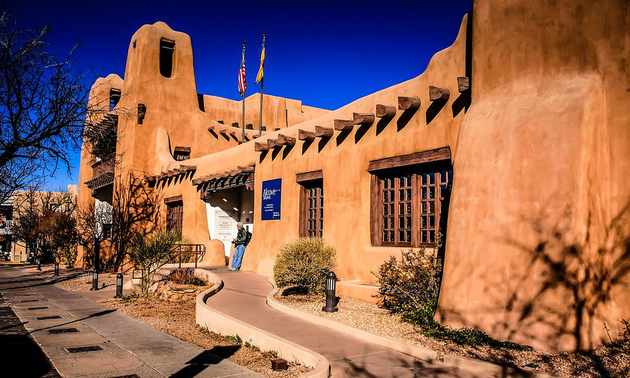 There is a boundless quality to the blue skies of
Santa Fe,
New Mexico. Emphasized by the contrast between those skies and the adobe colours of the desert surroundings, it is a blue that, once seen, can rarely be forgotten. So it was little surprise that a recent conversation brought memories of past travels to mind as I enjoyed a latte with friends at our local North Vancouver Waves Coffee House.
Stumped for a story idea even close to inspiring me, I scribbled a few questions to the group: If you had an RV and a whole month free, where would you go? Why? What would you like to see along the way, and what would you like to do when you arrive?
Did that ever get the morning's conversation underway! Caused no less by our view of the dreary rains streaming down the bistro windows as we vented our ever-present thoughts of sunshine, warmth and poolside lounging, two friends put the answers to paper: Santa Fe. Artistic community, desert and more desert, art galleries, hiking and restaurants.
Having passed through the area when visiting New Mexico some years ago in a VW pop-up camper, I understood my friends' enthusiasm.
Santa Fe draws a crowd
Over 2,575 kilometres (1,600 miles) southwest of Vancouver, the stunningly colourful city of Santa Fe, New Mexico, sits approximately 2,134 metres (7,000 feet) above sea level and is home to just under 70,000 residents.
The altitude deserves a cautionary note. If some travellers are prone to altitude sickness or have breathing problems that might be exacerbated, they should take time to adapt slowly as they travel higher. It's no more challenging than Reno and Lake Tahoe, Nevada, but worth a mention.
Following centuries of occupation by many Indigenous peoples, the city was founded in 1610 by Spanish explorers, notably Don Pedro de Peralta. Today, as one of the oldest and most unique capital cities in the U.S., it is a treasured centre for the arts, history, outdoors activities and dining. For all-round information, you cannot do better than check with the helpful team at
Tourism Santa Fe
.
Artistic community
As you might expect, many of the exhibits in galleries and museums lean toward the fascinating history of New Mexico's early discoverers and Indigenous peoples. Especially welcome is the fact that many of the year-round attractions and events are free-of-charge to walk-in visitors. From the annual schedule of events at the
Museum of Indian Arts and Crafts
and its Laboratory of Anthropology & Archeological Research to popular farmers markets, from opera and music festivals to the contemporary
Art Santa Fe
event scheduled for July 18-21, 2019 . . . all the way to the Georgia O'Keeffe Museum and the New Mexico Museum of Art, visitors can spend weeks exploring and still not see them all.
Hiking and cycling
As is often the case around North America, many of the trails in and around Santa Fe are multi-use. The trick is to find trails that match a user's fitness level, equipment, clothing, weather and trail conditions, and time available. Even when daytime temperatures are in the 20s C (70s and 80s F), because of the elevation and desert conditions, nighttime temperatures can be uncomfortably cold if you're not appropriately clad. So best seek advice from local hikers and bikers before you set out on unfamiliar terrain.
Restaurants
If you've become somewhat jaded after hundreds of miles of meals in the RV, you'll be glad to know Santa Fe is proud of the enviable reputation it has earned for its selection of great restaurants. Homestyle, chili "red or green," Mexican, poolside or Main Street, it will not be long before you find just the right place to satisfy the hunger you earned from all that walking and cycling.
Tired? Happy? Replete? Seems to me my friends' hastily scribbled Santa Fe bucket list was the best idea I've heard in a long, long time.