Strike it rich in Myrtle Creek
Myrtle Creek may be famous for its gold, but it's also rich in history, nature and hospitality
by Maureen McEwan —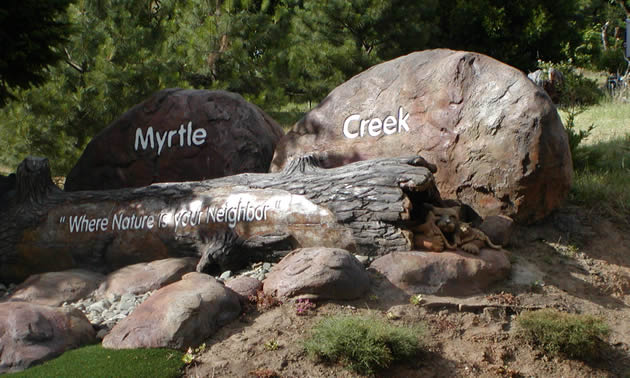 "There's gold in that there creek!" This was a familiar cry of prospectors who came to Myrtle Creek, Oregon, in the mid-1800s hoping to strike it rich. Gold had been found in the Umpqua River, and as pioneers moved north from California to stake their claims, Myrtle Creek blossomed into a gold mining town.
As the town grew, it became known for more than just gold. Shops opened, a gristmill was built and timber became a main economic driver. Unlike many small gold mining towns, Myrtle Creek experienced a boom but never a bust. Today, Myrtle Creek is home to nearly 3,500 people, and it is known more for its quaint atmosphere than as a bustling boom town. But if you ask the locals, they'll say there is still gold to be found within the tributaries of Umpqua River.
Getting from here to there
For travellers, Myrtle Creek is a wonderful place to visit, particularly for those who love history, outdoor recreation and bridges. The Neal Lane Bridge, constructed in 1929, is reminiscent of an earlier time. The shortest covered bridge in Oregon—it's only 42 feet long—the Neal Lane Bridge sports a window on each side as well as a metal roof and plank flooring. Horse Creek Covered Bridge is for pedestrians only and can be crossed while exploring Myrtle Creek.
"The state of Oregon used to have over 250 bridges," said Ted Romas, president of the Myrtle Creek-Tri City Area Chamber of Commerce. "Now there are only 45, and of those Myrtle Creek has two."
Here's another angle
Aside from its bridges, Myrtle Creek is also known for its outdoor recreation—hiking, biking and fishing. Anglers will love the challenge of fishing for steelhead salmon in the South Umpqua River, which is rated one of the top three smallmouth bass rivers in the U.S.
The Applegate Trail and the Applegate Interpretive Center are musts for history buffs. The Applegate Trail was the first route through Myrtle Creek; it was formed in 1846 by a group of surveyors as they made their way south to Nevada. Along that trail is the interpretive centre, an old-fashioned wooden building featuring a variety of displays that paint an interesting picture of Myrtle Creek's past.
"Myrtle Creek is also home to a state-of-the-art golf course," said Romas.
The Myrtle Creek Golf Course offers a fantastic golfing experience for all levels of players—all in a beautiful setting with terrific views. Golfers can expect to encounter a mix of terrain that includes a meandering creek, farmlands and forests; they are sure to enjoy the relaxed setting as they move from green to green.
Entertaining and energizing
Located just five miles south of Myrtle Creek is Seven Feathers Casino Resort, home to the upscale Seven Feathers RV Resort. Here, RVers can enjoy a heated pool, spa, fitness room, library and gift gallery. As well, the resort offers wonderful evening entertainment. Take in concerts and special events, or join an excursion on the Cow Creek Seven Feathers Trolley, which takes visitors to the Wildlife Safari, various museums and through Umpqua Valley Wine Country.
"Myrtle Creek is easily accessible off the I-5," said Romas, "and only 100 miles (161 kilometres) north of the California border."
It's a fascinating yet relaxing place to visit, and an ideal stopping point for travellers headed west towards the Oregon coast.