Get close to the bone
You needn't dig deep for a fun time at the Canadian Fossil Discovery Centre in Morden
by Glynis Fediuk —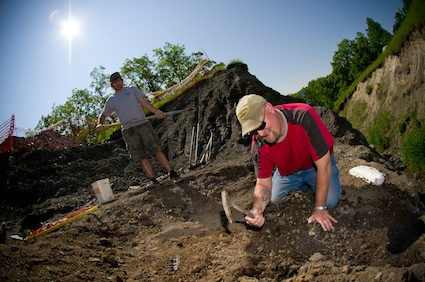 During the mid to late Cretaceous period—approximately 80 to 90 million years ago—much of Manitoba was covered by a massive inland sea. This water body, known as the Western Interior Seaway, was home to many creatures, from turtles and squid to huge marine reptiles such as mosasaurs and plesiosaurs. Fast-forward to present day, and the remnants of those early life forms can be found in places like Morden, Manitoba, at the Canadian Fossil Discovery Centre (CFDC).
The CFDC's indoor gallery houses hundreds of fossils and is the largest collection of marine reptile fossils in Canada. It is unusual in that all of the pieces in the collection were found within a 30-kilometre radius of the centre.
"Our big exhibit is called Bruce, the largest mosasaur in Canada," said Joseph Hatcher, the assistant curator of paleontology at the CFDC. "He is 13.1 metres (43 feet) long, which is a little longer than the average T. Rex."
Along with Bruce, visitors can see displays of bird, shark and fish fossils. There are a number of hands-on exhibits, as well as dioramas and geological displays. Formerly the Morden and District Museum, the facility celebrates its 40th anniversary in 2011; this milestone is being commemorated with a historical exhibit.
Outdoors, the fossil dig adventure tours are a highlight at the CFDC. Ranging in length from half a day to five days, these tours gives visitors the chance to work alongside scientists to excavate fossils. Hatcher said mosasaur fossils are the most commonly found; findings range from a single vertebra to larger, more complete skeletons, such as the fossil of a Xiphactinus—a giant prehistoric fish—found in 2010.
"There's nothing like the act of discovery," said Hatcher. "I don't think it matters how old you are—when you discover a fossil for the first time, and you realize that you're the first human to see it and it's the first time sunlight has ever hit it—that never gets old."
Learn more about the CFDC and the fossil dig adventure tours on the CFDC's website.