What an udder delight!
Enjoy fresh cheese and ice cream after visiting Superstition Farm
by Kali Love —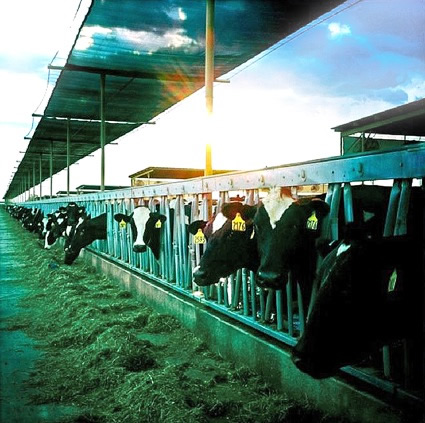 Named after the Superstition Mountains in Arizona, Superstition Farm in Mesa is becoming known as Super Farm instead. A 1,000-cow dairy farm, Superstition Farm holds tours for anyone interested in learning about the dairy industry and those looking for samples of fresh cheese, butter and ice cream.
The farm is operated by a dedicated team, including Casey Stechnij and Alison Crittenden, who are third-generation dairy farmers and also happen to be brother and sister. Alison's husband, Jason Crittenden, also works on Superstition Farm. He said their mission is to show the public that a modern dairy operation is environmentally conscious and each team member who works there is lovingly dedicated to the care and health of every animal.
"There are a lot of myths about how dairy farmers treat their animals and what is in your milk," said Crittenden. "When we started doing tours we wanted people to come and meet the farmer and see how this stuff is made and ask questions about the farm."
Crittenden said that a typical tour starts in the barn where visitors can examine various farm equipment. Then Crittenden takes guests on a guided hay ride of Superstition Farm.
"There are a 1,000 cows at this facility," said Crittenden. "We would expand on how milk is made and where it goes. Then we would (visit the) rescue animals. There are donkeys, horses, sheep and tons of others. Everyone can hand-feed these animals and hold a chicken."
A side business operated by Superstition Farm is Udder Delights, where Stechnij makes cheeses, artisanal butters, cheese-infused desserts, ice cream and hummus—all with ingredients from their farm. People interested in touring the facility or learning to make ice cream, cheese or butter can make an appointment with Superstition Farm.
The other side of the story
Crittenden said that one of the main reasons they have opened Superstition Farm to the public is to educate people about dairy production and dispel some of the myths associated with dairy farming. For example, did you know that a cow has to be pregnant to make milk? Seems obvious, but that is something that never crossed my mind. Did you know that at organic dairy farms, farmers are not allowed to give their cows medicine if they are sick, which can lead to suffering and sometimes death?
Crittenden said the question he is asked the most is whether or not his animals are given antibiotics and if that transfers into the milk that people drink. Crittenden said that standard practice for sick animals is to remove them from production while they are on medication. At Superstition Farm, they have a hospital pen for any sick animal while they recover.
"Any animal that is sick in the corral will be removed from production," said Crittenden. "They still need to be milked because they still have seven or eight gallons of milk in their udders, but we milk them last and we destroy that milk so it doesn't get into the milk supply."
Crittenden said the people who come to Superstition Farm are looking to be more connected to their food and have a desire to eat locally sourced produce and meat. Throughout the year, excluding June, July and August, Crittenden and the other farmers and ranchers in the area host a four-course, locally sourced meal cooked by a chef. Typically 75 to 100 people come to enjoy the dinner and company.
"You can eat your food with the guys that grew it or harvested it and hear their stories about where your food came from," said Crittenden. "It has been a great success. People want less ingredients in their food. Food is supposed to go bad . . . it is (not supposed) to have ingredients that you can't pronounce. People are starting to want that again and it is pretty cool."