Reach the higher ground
Take a lofty position and change your perspective in a balloon ride
by Tanya Laing Gahr —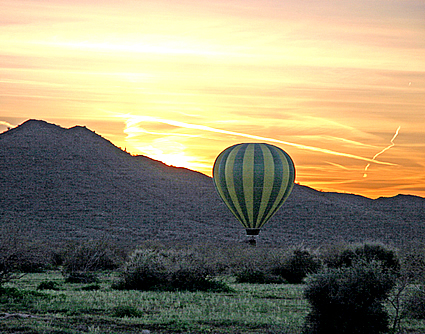 You can change your attitude just by changing your altitude—and a new perspective is only a balloon ride away.
Aerogelic Ballooning specializes in taking small groups on rides that, as pilot and owner Shane Cory said, will challenge your assumptions of what flight is like.
"I love the adventure of the unknown," said Cory. "The thing is that you're only travelling with wind, so basically, every day is a different adventure. It all depends on where the wind is going and coming from."
Each flight lasts about an hour and with every route being brand new, the sights from above are always different. Cory said one of his all-time favourite launches is near the community of Chandler, outside of Mesa.
"The best way to explain that flight is that it gives the true euphoria and nostalgia of ballooning," said Cory. "In Chandler there are a lot of waterways, and we're able to just drop down and touch the basket in the water—what we call a 'splash 'n' dash'."
Cory said that children in schoolyards will often run after the balloon, shouting and waving. "It gives you a real rock star feeling," he said.
Cory's pilots also fly over the Sonoran Desert north of Phoenix, giving passengers views of the landscape that can't be had by any other means.
Cory said balloon flight must be experienced in order to be understood, and that every assumption most people have about what it is like misses the mark.
"It's like imagining what a rose smells like when you've never smelled one," he said. "That's what ballooning is like."
Resource: www.aerogelicballooning.com