Roadtrek's new Touring Series rolls off the line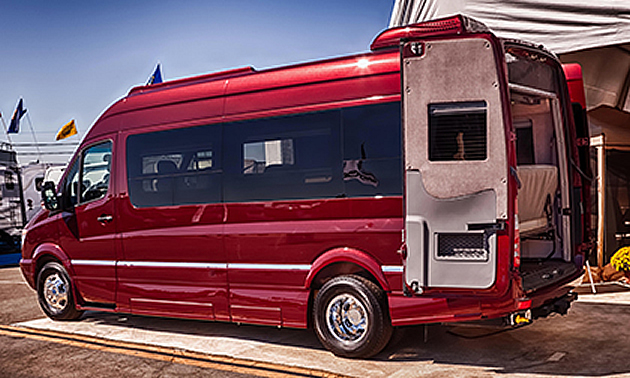 Roadtrek's Touring Series (TS) Adventurous, which was first talked about late last year, has officially made its introduction into the company's impressive lineup of coaches. The TS is a class above when it comes to Class B motorhomes; built on the renowned Mercedes Benz chassis, it offers luxury accommodations, beautiful styling and state-of-the-art technology for all your travel needs.
The company has continued its trend of clean and sleek lines on the exterior of the TS and even introduced some impressive newly styled ground effects that will make their way across all Mercedes Benz models this year.
Stepping inside the TS is where the coach really strikes an impressive note. Roadtrek's famous floor plan is elevated to new levels with rich interior colours, accents and fabrics that surround you in luxury. Exclusive to the TS Adventurous is the charcoal interior cabinets with subtle hints of grey throughout and accented with chrome pieces for an upscale, trendy look that is sure to impress anyone who walks through.
The features continue in this new vehicle with the true granite countertops, LED strip lighting with dimming control, power awning with outdoor lights, heated floor, built-in work station, induction cooktop, optional drawer-style microwave, a large 11,500-BTU air conditioner and rear electrical and water hookups.
Also being showcased in the TS Adventurous is Roadtrek's newest technological advancement, the innovative and interactive Coach-Connect™ system. Coach-Connect™ is a Roadtrekers dream, giving you full control of your vehicle's critical functions even if you are not near it. Using the tablet interface, connect via any desktop, tablet or cellphone and monitor your coach's features, such as tank fluid levels, lighting, air conditioning and heating, awning, battery power and more. It's full control of your Roadtrek right at your fingertips.
"We are thrilled to have the TS Adventurous officially become part of the Roadtrek lineup. It is a coach that showcases everything Roadtrek stands for and where the company is headed," said Jim Hammill, Roadtrek's president. "Enthusiasts buy Roadtrek because they expect and deserve the best and that is exactly what we are offering in the new TS Adventurous. It's a touring coach like no other."
Roadtrek is the leading manufacturer of Class B motorhomes (camper vans) in North America, a position held since 1990, selling its motorhomes through a network of independent RV dealers in the U.S.A., Canada and Japan. For more information, please visit Roadtrek.com/PR or contact Karyn Torcoletti, director of marketing, at [email protected] or 519-745-0711.