Mackenzie is an outdoor water playground
Travel for days through endless waterways that link the region's many beautiful lakes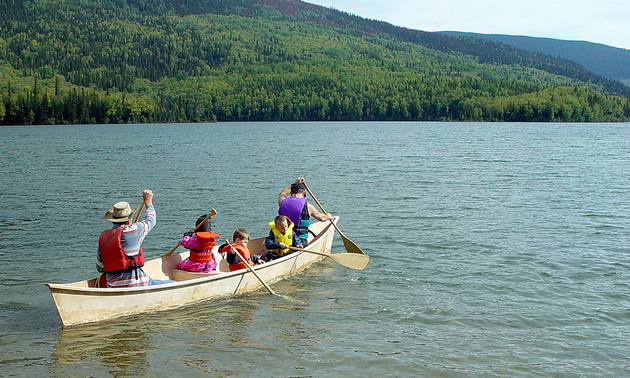 Mackenzie, B.C., is an outdoor water playground for boating, kayaking and jet boat enthusiasts of all skill levels. Plan an afternoon or full-day trip on the glass-like waters of Morfee Lake or on the open water of Williston Lake, or travel for days through endless waterways that link the region's many beautiful lakes.
Mackenzie is located 185 kilometres north of Prince George and 179 kilometres south of Chetwynd on Highway 39. It is named after the legendary Scottish explorer Sir Alexander Mackenzie, who explored the region in 1793 looking for the Northwest Passage.
Head to the big lake
Mackenzie's location on Williston Lake—a man-made lake boasting 1,200 kilometres of shoreline—makes it a prime destination for camping, boating and fishing. Canoes, kayaks, and jet boats are welcome, especially in the many arms of the lake where someone familiar with the area can help guide your way. Locals and visitors also love Alexander Mackenzie Landing, a day-use area on Williston Lake with a sandy beach, cement boat launch, and volleyball and picnic areas.
"If people want to fish, Williston is the place to go," said Kerri Borne, tourism and events manager for the District of Mackenzie. "It is also great for camping at recreation sites along the lake. These are the best places to launch a boat or jet boat."
Mackenzie's best beach
By far the best beach in Mackenzie is at Morfee Lake, just two kilometres from downtown on the east side of town. Here, sandy beaches and plenty of water fun await. A sand bar creates a natural divide between motorized users and non-motorized users.
"You don't have conflicts on the lake with users," said Borne. "It is popular for boating, water-skiing, wakeboarding, kayaking, canoeing and just lounging in the sun."
Borne added that the surrounding mountain views make the experience a visual luxury.
Do the loop of the lakes
On the western edge of Williston Lake, approximately 25 kilometres north of Mackenzie at 25 kilometres and 31 kilometres on the Parsnip West Forest Service Road, is Heather Dina Lakes Provincial Park. The big draw to the newly designated 5,786-hectare park is the Dina Lakes Canoe Circuit—a four- to five-hour circuit consisting of five small lakes connected by portage trails. Experienced hikers or avid adventurers will enjoy the trek over a sometimes overgrown trail where fallen trees create some tricky obstacles. Trips can begin from a boat launch at Dina Lake, where canoes, kayaks and small boats with 10 hp or 7.5 kw motors are welcome. Borne said she made the trip several years ago.
"We did it with kayaks first thing in the morning and the water was clear and it was so calm," she said. "Every portage offers different scenery and it is really peaceful. You are in nature and it really feels like it."
Water enthusiasts will also love Gantahaz Lake just five kilometres north of Mackenzie on Highway 39. The lake is restricted to canoes, kayaks, and 7.5 kw motors, making a one-hour paddling adventure around the lake an easy feat for the novice or for a family, and a relaxing cruise for the more experienced. Don't be surprised if an eagle, a beaver or even a bear turns up to watch the fun.