Where waters meet
You can find an arid Mediterranean climate right here in British Columbia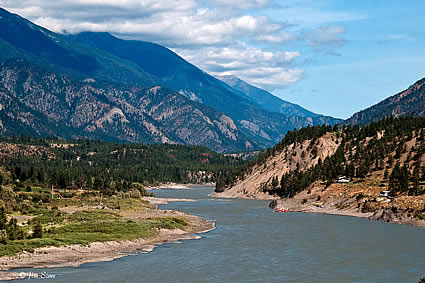 There are few of us who haven't dreamt of retreating to a sunny locale with sparkling waters. You may be surprised to learn that this environment can be found in beautiful B.C.
Lytton is situated on the east side of the Coastal Mountains, giving it an arid clime and Mediterranean likeness that attracts campers, hikers and other outdoor adventurers in droves.
"The meeting of the Thompson and Fraser (rivers) here causes an opening of the mountains," said Peggy Chute of the Lytton Visitor Centre. "The Thompson (River) is a beautiful blue-green, having…wound its way through the desert-like hills."
The lay of the land
The Thompson River flows between Spences Bridge and Lytton, surging through a canyon where thousands gather each summer for whitewater rafting.
If hiking suits your fancy, you will see a variety of cacti and alpine flowers here. Many are protected species, so visitors are asked to respect this and use caution when exploring. Stunning geological formations add to the allure.
"You can see where there are layers," said Chute, "showing the water lines from lakes that came after the ice age. We have an outdoor pool in the village that is a wonderful place to cool off—the rivers are too dangerous for swimming. Because of the dry climate, we have few bugs, wonderful camping and some great hikes."