A creative celebration
The Lytton River Festival promises to be exciting and entertaining
by the Lytton River Festival —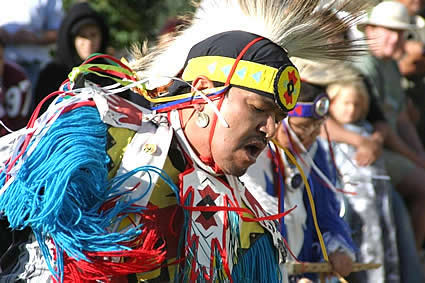 Bigger and better only partly describes the 2009 Lytton River Festival. This year's festival showcases the skills of more than a dozen First Nations artisans for the first time. Held at Lytton, B.C., the three-day family oriented Lytton River Festival attracts thousands of spectators on Labour Day weekend each year.
More than a dozen skilled artists will be demonstrating and selling their creations on Sunday. These creations include arrowheads, traditional drums, soapstone carvings, basketry, jewelry and more.
Honouring traditions
A Pow Wow also takes place on Sunday and runs in conjunction with the artisan demonstrations. More dancers and drummers have been invited to the 2009 event, which means more entertainment for spectators and bigger prizes for participants.
The Pow Wow Grand Entry is at 1 p.m. and the dancing and drumming continues until dusk. This is a highly entertaining event and it's free!
Other Sunday events include the B.C. Downriver kayak races, a toy raft race for kids on the Nicomen River (prizes will be awarded for the winning rafts), as well as kite flying demos and a contest.
Music and more
The festival begins on Friday evening with two live bands performing on the outdoor stage.
Saturday is full of activities, beginning at 10 a.m. and going non-stop until midnight. These include street theatre with the Table 23 Improv Comedy group from Vancouver, a climbing wall (very popular with kids), a farmer's market and talent show.
In the evening, immediately following the fire spinners and fireworks, the band Size 13 from Kamloops will take to the stage for a family street dance.
There is no charge for any of the festival events. Be sure to mark the Lytton River Festival on your events calendar and Lytton as the place to be on Labour Day.
For more information about the Lytton River Festival visit www.Riverfestival.ca.