Visit the Wild West in Lethbridge, Alberta
Lethbridge offers a haven for nature lovers and history buffs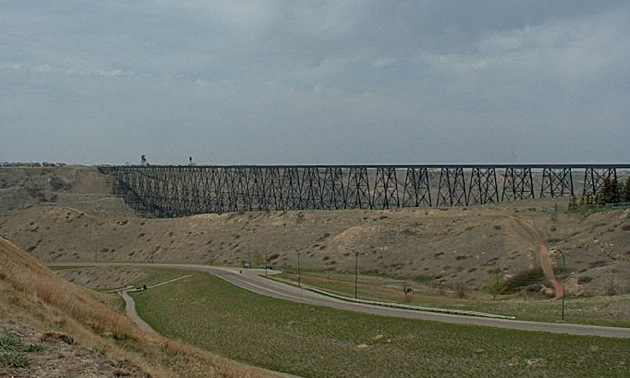 Galt Museum
A cultural exploration of Lethbridge begins at the Galt Museum and Archives, where museum educator Belinda Crowson said artifacts, books and knowledgeable staff will help launch a journey into the city's past.
Lethbridge—named after William Lethbridge, largest investor in North Western Coal and Exploration Company—was founded around coal seams and eventually hosted an important train stop.
The Galt Museum, with static and revolving displays focused on Lethbridge and surrounding Southern Alberta, introduces visitors to Lethbridge's evolution as a resource town with a risqué past. It was Alberta's only town to vote against prohibition, and was almost subject to a boycott by surrounding municipalities in 1918.
"Lethbridge also had one of Canada's largest red light districts," said Crowson. Illegal but overlooked beginning in the 1880s, the red light district was also one of the last to close down in the 1940s. Crowson looks at this important part of Lethbridge's past in her book, We Don't talk About Those Women, available at the museum.
Galt Museum captures Lethbridge's evolution into a more contemporary (and conservative) place with static displays about its function in Southern Alberta's history, the culture of the Kainai people, the prairie landscape and coal mining industry, as well a multitude of revolving exhibits.
"We are one chapter in the book of Lethbridge's history," said Crowson. "You have to go out and find the others to tell the whole story."
The Coulees and Fort Whoop-Up
Lethbridge offers a haven for nature lovers and history buffs in the coulees, a majestic geographical landform that rises up on either side of the Oldman River Valley.
"If you've never seen the coulees, you have to go," said Laurie Harasen, recreation and culture development manager for the City of Lethbridge. "They are simply amazing."
Coulees are the steep-sided, v-shaped valleys formed when the last glaciers retreated from Southern Alberta and since eroded by water and wind. Near the Lethbridge coulees visitors will find Fort Whoop-Up, a reconstructed frontier trading post once built around American fur traders' whiskey deals that made them wealthy until the Mounties showed up.
The attraction features live enactments and displays that pay tribute to Mounties and the Plains tribes with museum and interior galleries and authentic period rooms. Today, the fort still trades with the Blackfoot tribes of Southern Alberta, supplying many ceremonial goods, hides, sweetgrass and other items.
A visit to the coulees should also include stops at the CPR High Level Bridge and Helen Schuler Nature Centre.
The CPR Bridge is the largest railway structure in North America and the world's largest in combined height and width. The mile-and-47-feet-long structure was a feat of engineering in 1909, when 150 local men constructed the pre-cut assembly project in just under three years.
The Nature Centre is part of the Lethbridge Nature Reserve—a 196-acre park showcasing the region's three completely unique ecosystems, including the coulees, over 300 bird species and some of the world's only hybrid cottonwoods.
Arts attraction
Laurie Harasen, recreation and culture development manager for the City of Lethbridge, said the city is well known for its underground arts scene—a thriving community featuring work of international acclaim.
"The Southern Alberta Art Gallery has work that people would usually have to go international to see," she said. "People are quite surprised to see what we offer."
In May, the city opened Casa—a one-of-a-kind-in-Canada home for the arts with space for every medium imaginable. The project is the culmination of a 20-year dream shared by the Lethbridge arts community to expand or replace the Bowman Arts Centre.
"This unique new facility is about experimentation, incubation, learning and growing," according to the facilty's website. "Casa was built to serve a multi-generational community with varying art skill sets and interests in all disciplines of the arts."
"Guilds can use the space and hold lessons; it has a Black Box theatre, space for dance recitals and the music conservatory is based there," said Harasen. "It's a real hub of arts and culture learning."
For more information about Casa and what is has to offer, visit casalethbridge.ca or call (403) 327-CASA.