"FOUR!" golf courses worth checking out in Lethbridge
Golfing in Lethbridge? Utilize this essential scorecard so you know where to go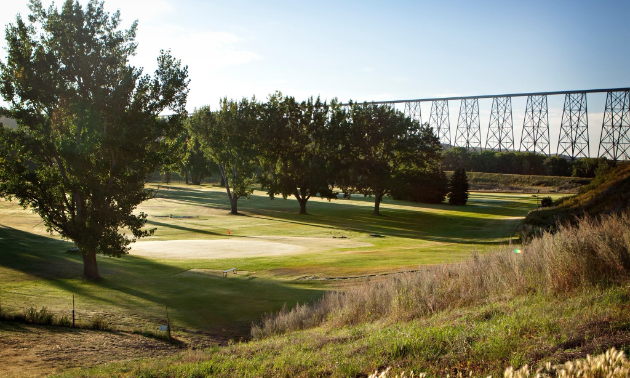 Lethbridge is southern Alberta's oasis for avid golfers, offering four unique courses that range in price and difficulty. Read on to find which one is right for you, or try out all "FOUR!"
Load up the fam and prepare yourselves for a fun-filled day. Bridge Valley Golf has been Lethbridge's affordable family golf destination for over 50 years. Improve your short game on this nine-hole course nestled within the River Valley. Then whack the ball as hard as you can at the new and improved driving range.
Bridge Valley Golf offers the following amenities:
9-hole par-3 course (total length = 1,318 yards)
Driving range (features the largest landing area of public ranges in Lethbridge)
2 large practice putting greens
18-hole mini-putt
Green fees: 9 holes for $15
Rentals: pull cart for $3
Driving range: basket for $6.50
Henderson Lake Golf Club has been in operation for over a century. During that time, the course has tested golfers' ability to navigate tree-lined fairways, water hazards, sand traps and small greens amidst a relaxing, picturesque backdrop. The multiple tee compounds allow players of all abilities to play and compete within the same groups.
The golf club is only five minutes from downtown Lethbridge, making it all the more convenient to drop in for breakfast, lunch or dinner at the restaurant and lounge, followed by a round of nine, 12 or 18 holes.
If you need a bit of practice to knock the rust off before you hit the links, Henderson Lake offers chipping and putting areas. There's also a pro shop on-site in case you need to pick up some equipment or apparel to raise your game.
Henderson Lake Golf Club rates:
18 holes: $55
9 holes: $35
Electric cart rental:
18 holes: $40
9 holes: $30
Paradise Canyon Golf Resort sits amidst the hills and cliffs of the Old Man River. The location acts as an haven within the harsh landscape of southern Alberta.
This championship golf course is complete with clubhouse, driving range and on-site accommodations. Whatever your level of play, you'll find a fun, engaging round of golf at Paradise Canyon.
Paradise Canyon Golf Resort rates:
18 holes: $100 Friday to Sunday
18 holes: $85 Monday to Thursday
9 holes: $50
Power cart rental:
18 holes: $44
9 holes: $24
Evergreen Golf Centre is an economic way to play a round of nine par-3 holes with features such as water hazards, sand bunkers, grass bunkers and mounding. Holes vary in length from 65 to 310 yards. Evergreen also has a driving range, mini golf course and—if you're looking for an amusing diversion to swinging clubs—go-karts.
Evergreen Golf Centre rates:
Adult rates
Weekday adult 9 holes: $16.00
Weekend adult 9 holes: $18.00
Senior rates (age 60 & over)
Weekday senior 9 holes: $13.00
Weekend senior 9 holes: $15.00
Power cart rentals
9 holes: $15.00