A city built on creativity
Lethbridge is brimming with artistic venues and architectural marvels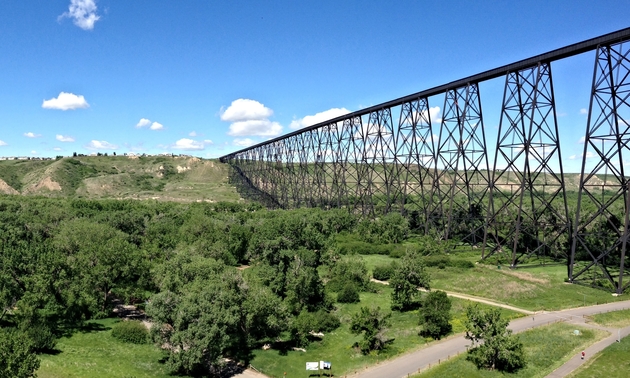 Lethbridge is a joy to visit, as it has just the right mix of amenities to appeal to almost any group of travellers. The shopping is great, there is ample entertainment, and outdoor recreation abounds. What some don't know is that Lethbridge is also a focal point for some exceptional art and architecture. If this piques your interest, then you have come to the right place. Here is a starting checklist of some key attractions you'll want to snap a photo of along the way.
Starting with perhaps the most well-known architectural feature in town, the High Level Bridge (also known as the Lethbridge Viaduct) is a steel trestle bridge crossing the Oldman River. It was built between 1907 and 1909, is the longest and highest of its kind in the world, and is still in use today.
Another interesting example of architecture in Lethbridge is this renowned university. The campus buildings were designed in innovative ways to contrast and complement the coulee landscape. This was the work of Vancouver architect Arthur Erickson, and the project turned out to be one of his crowning achievements.
The citizens of Lethbridge are nothing if not creative. A local entrepreneur took an old water tower and revamped it to become a trendy restaurant. The Water Tower Bar & Grill offers "modern farmhouse fare" using ingredients from local farms in the area. The ambience is casual, with guests dining 102 feet off the ground, enjoying a panoramic view no matter where they sit.
With programs for adults and youth, markets and more, this art gallery will spark your creative soul. The exhibits are always changing, so every year you can return to see a new selection of talent. Events include reading group sessions, craft beer Fridays, wine tastings and talks given by local artists. Take a weekend tour with gallery attendant Courtney Faulkner on Saturdays and Sundays at 2 p.m. to get in-depth information on the displays.
If you'd like to get hands-on and learn some new art techniques, pay a visit to Casa. In addition to having a traditional gallery with exhibits to see, Casa also offers affordable space for those who wish to hone their own skills or present their artwork to the public. There are classes and workshops for artists of all ages and abilities, including some suited to those with special needs.