The city of neon lights
This museum shines a little light on the history and evolution of Sin?City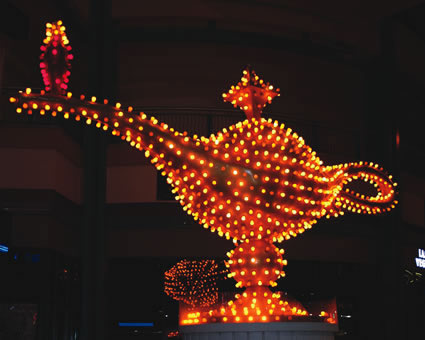 Whenever someone mentions Las Vegas, one of the first things that may come to mind is the vibrant array of neon lights that help to create the city's glamorous ambience.
That glamour and history of Vegas is exactly what the Neon Museum is celebrating. Set up as a non-profit organization in 1996 , this unusual museum features an intriguing collection of neon signs that spans several decades.
"On the Neon Museum tour, visitors will learn about Las Vegas history as told through the evolution of classic vintage neon signs," said Bill Marion, chairman of the board for the museum. "No city in the world comes close to Las Vegas for embracing neon as an art form, as an architectural statement, and as a way of attracting visitors."
A timeline of Vegas history
With more than 150 signs on display, the Neon Museum tells the story of a city's evolution and highlights the changing trends of design and technicological advancements since the 1930s.
"Every sign has multiple stories to tell," said Marion, "from the beginning of the city to the days of the Mob and the rise in the city's reputation as the entertainment capital of the world."
Having been active as a museum for more than 20 years, this attraction promises an experience that appeals to all visitors. It is currently undergoing a major renovation; this includes the refurbishment of the historic La Concha Motel Lobby, which will serve as the new visitors centre.
"Each visitor walks away . . . with a different experience," said Marion. "The museum is a photographer's playground, a historian's odyssey through time, an explorer's adventure land."
Appreciate the artistry
A feature that makes the Neon Museum stand out is the way the exhibits are set up. Rather than viewing the signs from afar as they were originally meant to be seen, visitors can get up close and personal.
"They can see the intricate wiring and the craftsmanship that went into making these signs," said Marion. "Neon is an art form that has changed dramatically over the last 100 years, and Las Vegas was in the vanguard of that artistic evolution because the best neon designers in the world worked there."