More than bright lights and slot machines
You don't have to wander far off the Las Vegas Strip before seeing the other side of Nevada's recreational offerings
by Maureen McEwan —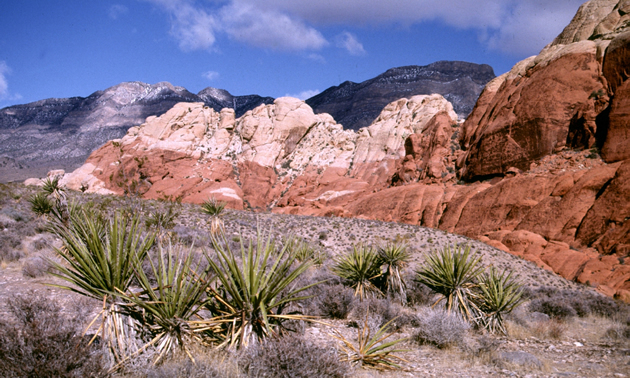 Think Las Vegas and you can't help but hear the singing of slot machines amidst the bright lights of a city that rarely sleeps. But beyond the glitter and glamour of Las Vegas are some spectacular features that are well worth a visit, and many lie within an hour's drive.
"There is so much to see and do in Las Vegas, and you can spend a lot of time not gambling at all," said Chris Moran, public relations specialist with the Nevada Commission on Tourism.
Moran urges visitors to take the time to explore the other unique features, because there really is something for everyone.
Putter around
Golfers will love the town of Mesquite, located just an hour northeast of Las Vegas on the Nevada/Arizona border. Boasting nine championship golf courses and four resorts, Mesquite offers year-round golf in a spectacular setting. Located in the Virgin River Valley, the courses offer views of surrounding canyons and vistas, as well as unmatchable fairways and greens. Not a golfer? Then be sure to visit one of the many restaurants, casinos or lounges, relax at the spa, or kick up your heels to live music and dance the night away.
Discover a treasure in Pahrump
"An hour in the other direction (west) is a mecca for RVers," said Moran.
The Nevada Treasure RV Resort, located in Pahrump, Nevada, offers nearly every amenity RVers could want. A state-of-the-art clubhouse, fitness centre, bowling centre, steam room, putting green, two-level swimming pool, Jacuzzi tubs and waterfalls make this a must-stop for travellers. Plan to visit the Pahrump Valley Winery and sample a few of the award-winning wines, or explore Death Valley National Park—a three-million-acre desert featuring snow-capped mountains, canyons and sand dunes.
"The best time to visit is during the autumn and spring," said Moran, unless you're well prepared for the summertime heat.
Natural history at its finest
For those keen on learning more about the local geography and habitat, the Springs Preserve is a must-see on your itinerary.
"This is a wonderful place featuring museums (and) natural and cultural history of the area," said Moran.
Located just off the Strip, the Springs Preserve is home to the Desert Living Centre, Origen Museum, a variety of gardens (including cacti, rose, vegetable, fruit and rose gardens, plus a palm oasis) and walking trails, as well as the new 70,000-square-foot Nevada State Museum. Take the time to visit the Natural Mojave Gallery, featuring numerous living collections that include lizards, grey fox, desert cottontails and Gila monsters. And watch for special events taking place throughout the year, as well as for interesting exhibits and educational programs.
Think grand
Relax and enjoy a tour of the Grand Canyon, one of the Seven Natural Wonders of the World. Formed over the last five or six million years as the Colorado River has cut through multiple layers of rock, the Grand Canyon stretches 446 kilometres in length and reaches depths of more than 1.6 kilometres. In some locations, it measures 29 kilometres across. Several tour companies offer a variety of excursions—by helicopter, airplane, bus, boat, raft, kayak and horseback—allowing you to see the Grand Canyon as you choose. Some tours include transportation from Las Vegas, as well as lunch. Or, you can drive from Las Vegas, then cross the canyon by foot using the South Kaibab Trail—an overnight hike for most—or by vehicle using the Navajo Bridge, which is the only crossing point for vehicles.
Go for an unforgettable trek
Hike, bike, ride or climb throughout the 79,245 hectares (195,819 acres) that make up the Red Rock Canyon in the Mojave Desert. Located just 27 kilometres west of the Las Vegas Strip, Red Rock Canyon is perfect for those wishing to experience Mother Nature at her finest. Outdoor enthusiasts will love the multitude of recreational opportunities and the spectacular beauty that the red rocks offer. Known as Nevada's first National Conservation Area, it is visited by more than one million people each year, who come to see the unique geographical features, plants and animals and to hike, mountain bike, horseback ride or rock climb. The 13-Mile Scenic Drive is a popular one-way road that allows visitors to see local wildlife, sandstone formations, waterfalls, even petroglyphs. Numerous hiking trails are accessible from the road; be sure and bring your camera to take advantage of lots of great photo opportunities.
"It's popular during the shoulder seasons," said Moran, "but it's beautiful in the summer too."