Top things to see and do at Lake Koocanusa
Lake Koocanusa is a regular summer-time playground for outdoor enthusiasts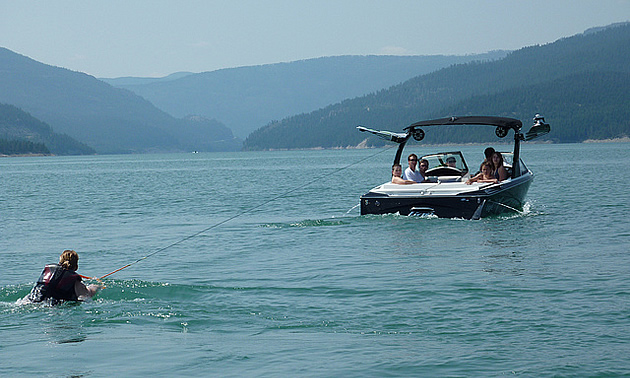 A hidden gem along Canada's U.S. border in B.C's Kootenay Rockies, Lake Koocanusa is a well-kept secret that's slowly being revealed.
A man-made reservoir formed with the completion of the hydro-electric dam in Libby, Montana in 1972, it began as a joint project between Canada and the U.S. as a means of stopping the constant yearly flooding from the Kootenay River, in areas of Idaho, Montana and British Columbia.
Today at 145 kilometres long, and with over 200 kilometres of mostly undeveloped shoreline along the Canadian side alone, Lake Koocanusa, named for its location (KOOtenay, CANada, and USA) is becoming one of the hottest places for vacationers looking for a little summer fun. And with all of the fun things to see and do at Koocanusa, it's no wonder the secret's getting out.
1) Go with the flow and fish
A fisherman's dream, the abundant fish stocks to be found in Koocanusa will have even the most reluctant fisherman jumping in the boat and heading out. The lake is home to a variety of species, including rainbow trout, west slope cutthroat, brook trout, whitefish and its most famous residents—the Kokanee Salmon. So abundant are the salmon here, they're never too hard to find, and practically jump in the boat begging you to take them home. Fish from the shore, from your own boat, or rent a boat from the Koocanusa Campsite and Marina.
2) Head out on the water and stay
Whether you're looking for the adrenalin-pumping rush of tubing, water-skiing, wakeboarding or wake surfing—or the more slow and steady style of a canoe or kayak—the wide open spaces of Koocanusa, combined with its many hamlets and hidden bays, make it the perfect lake for water sports enthusiasts of every variety.
Beginners, or even more adventurous water sports enthusiasts can take a lesson with H20 School where pro instructors will have you "waking" the water in no time, and those without their own boat can rent a variety of sport boats and water accessories from the Sunshine Marina.
Can't bear to get off the water even as night falls? Thanks to the houseboat adventures that await at Sunshine Houseboat Vacations, you never have to.
3) Buy local and head off to market
The Jaffray-Baynes Lake Farmers Market, just a stone's throw away from the access to Lake Koocanusa, is held every Saturday from 9 a.m. to 12:30 p.m., June until September at the Baynes Lake Community Centre. Whether you're looking for specialty breads (chili bread, foaccia or chocolate bread) offered by Loaf Bakery, locally grown organic fruits and vegetables, farm-fresh beef and other meats or crafts made by local artisans, the more than 40 vendors available are sure to have something for everyone.
4) Hiking, biking and turtles
At Kikomun Creek Provincial Park, which lies along the eastern shore of Lake Koocanusa, visitors can experience Interior Douglas fir and Ponderosa pine forest mixed with a natural grasslands habitat. With plenty of paved roads conducive to biking and winding trails for hiking, what really makes this 685-hectare park special is the home it makes for British Columbia's largest population of western painted turtles. So named for the red and yellow markings that can be found along their undersides, the turtles can often be spotted sunning themselves at a number of the small interior lakes found within the park. In addition to turtles, other wildlife watching opportunities also await. From wetland inhabitants like beavers, muskrats, blue herons and long-toed salamanders, to awe-inspiring chance encounters with elk, black bears, coyotes, cougars and deer.
5) Dust up the dirt bikes and quads
A little-known destination for off-roading enthusiasts, Lake Koocanusa offers trails and a number of old logging roads from the days when the centre of the lake used to house the lumber mill town of Waldo.
The majority of the riding on the western portion of the terrain doesn't have many steep inclines, which makes it a perfect area for some family fun. The eastern portion of the lake, and its rugged mountain terrain, offers challenges galore for all skill levels. Just be sure to bring additional fuel, because with so much territory to explore, you won't want to stop.