Top 3 things for RVers to see and do in the South Country
Take time to enjoy these outdoor-focused activities while visiting the friendly community of Jaffray, B.C.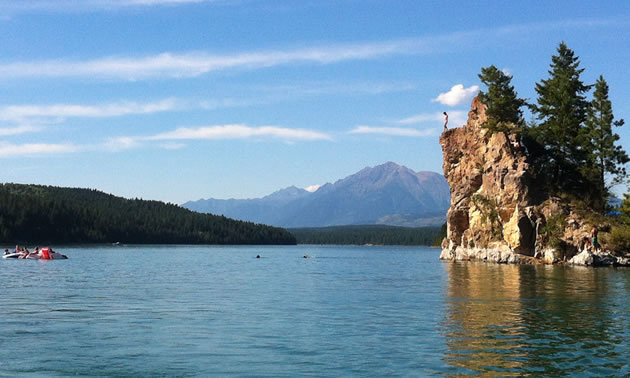 Jaffray, B.C., could be your destination or a place to stop while en route to the South Country's most popular camping area—Lake Koocanusa. Either way, you'll want to spend some time here, taking in the outdoor-oriented attractions and friendly atmosphere of this tight-knit community.
1. Golf at Will-O-Bend
Did you bring your clubs? If so, you must pay a visit to the Will-O-Bend Golf & RV Park. Located right off Highway 3, this nine-hole, executive par four features rolling hills, fun water features and splendid views of the Rocky Mountains. After a casual (or competitive) round of golf, you'll want to head over to the clubhouse where there is a fully licensed restaurant and an outdoor patio. Not ready to leave this serene setting? The adjacent RV park has overnight camping in addition to permanent and leased lots.
2. Spend Saturday morning at the Farmers Market
Hungry for homegrown? One of the most popular summer events throughout the area is the Jaffray-Baynes Lake Farmers Market. From freshly baked goods to hand-picked vegetables and fruits, there is a wide array of local produce available for purchase. You'll also find free-range eggs, locally harvested honey and a great variety of collectibles.
This year, the market will run June 17, 2017, to September 2. It takes place every Saturday from 9 a.m. to 12:30 p.m. Location is in the parking lot of the Baynes Lake Community Centre—which is about 20 minutes south of Jaffray and just 10 minutes from Kikomun Creek Provincial Park.
3. Hit the water
Whether you are camping at Kikomun Creek Provincial Park or not, visitors to the South Country will want to check out Surveyors Lake—especially if you have a family in tow. This surprisingly warm lake is located within Kikomun Creek Provincial Park and offers swimming, fishing and canoeing, with canoe and stand up paddleboard rentals available. Hikers and mountain bikers will also find several trails around the lake to explore. As the name implies, Surveyors is also a great place to view wildlife, including B.C.'s western painted turtle.
There are three separate campgrounds within Kikomun Creek Provincial Park, but visitors should book well in advance to secure a site. The park also provides public boat launch access to Lake Koocanusa where calm waters, miles of sandy shoreline and sprawling views of the mountains complete a picture-perfect summer holiday.