Kimberley's community lifestyle
A unique outdoor community
by Lisa Crane —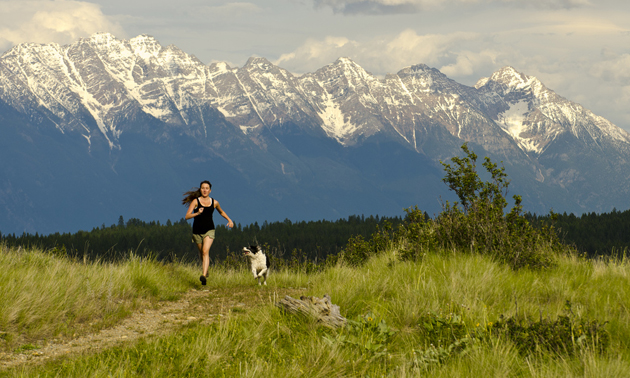 Similar to many towns in British Columbia, and definitely typical for the Kootenays, Kimberley's culture is all about lifestyle, the outdoors and the people.
The outdoor culture
"Our culture is based on outdoor community lifestyle," said Jesse Fergusen, executive director of Tourism Kimberley. "I think the people who are here have all moved here for the same reason—they like the sense of community and the access to the outdoors."
"Our biggest attractions here are the golf courses and the ski hill, of course," said Fergusen, "but we also have much more than that: our mountain assets."
He said visitors have so much to do here—biking, hiking, camping and rafting—that it is difficult just to name a few.
Kimberley's heritage
As well as the outdoors, Kimberley offers a very interesting mining history and art scene. The Kimberley Alpine Resort actually sits on the site of the first mining claim made over a hundred years ago. The Sullivan Mine was the mainstay of Kimberley for almost 100 years and it is now possible for visitors to explore a part of the former lead-zinc mine.
Both the Kimberley Heritage Museum and the Kimberley Underground Mining Railway tour are fun and exciting ways to learn about and discover the town's early beginnings. Cominco Gardens, named after the well-known Canadian mining and metals company, is a beautifully established garden in Kimberley's townsite. After enjoying an afternoon soaking up this mountain town's history and outdoors, visitors can check out Centre 64, the town's own art gallery and venue for exciting theatre performed by the well-known Kimberley Summer Theatre Society, home-grown coffee-house events, workshops and cultural events.
Arts and culture
Beginning in the spring of 2013, Kimberley will be hosting First Saturdays, a series of art and culture activities which will showcase what Kimberley has to offer. The day-long celebrations will highlight live music, high tea, art demonstrations, kids activities, live theatre and restaurant specials.
As Fergusen said, Kimberley is all about community and lifestyle, and this town, with its laid-back style and friendly, like-minded people, offers a lot to anyone wishing to stop by for just an afternoon, or a couple of weeks. .