Alpine delights in Kimberley
Wander the Kimberley Nature Park
by Stephanie Warner —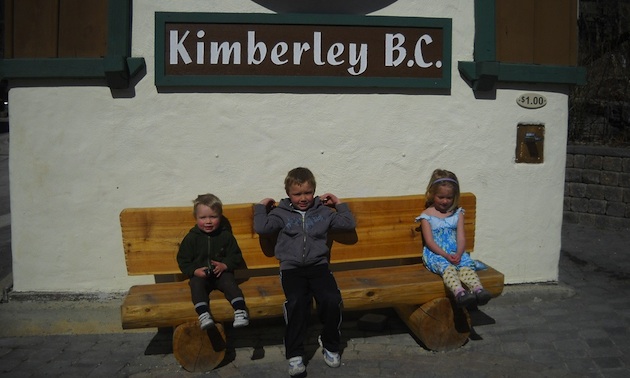 Kimberley, known as the Bavarian City of the Rockies, is a paradise for families keen on adventure and the great outdoors.
"We keep the stroller open so our little one can see the great outdoors," said Grace Hunt, a Kimberley local. "Just the other day she saw her first bluebird. The connection with nature here is really special."
Families like the Hunts take advantage of the sprawling network of trails in the Kimberley Nature Park, which is the largest municipal park in Canada. Crystalline ponds dot the landscape, interlocked by babbling creeks. Panoramic views of the spectacular Purcell Mountains are always just around the corner, and children will love frolicking on Sunflower Hill.
The Platzl
After a hike, Kimberley's Bavarian-inspired Platzl is a perfect place for families to decompress: cozy cafés, eclectic boutiques, art galleries and buzzing weekend markets offer a little bit of everything for the young and the young at heart.
Lunch in the Bean Tree Café is an ideal respite for families. Parents can enjoy artisan sandwiches and a beer, while the kids can choose their favourite Italian soda flavour topped off with whipped cream.
"My baby Rain loves the Platzl," said Hunt. "The smiling people, the hustle and bustle—just sitting on a bench and having an ice cream cone or paddling around in the kiddie fountain. I was a Platzl rat as a girl, and now I'm proud to be raising another Platzl rat."
The world's largest cuckoo clock, an iconic centrepiece of the shopping mecca, is not to be missed. For only a loonie, the city's lederhosen-attired mascot, Happy Hans, will pop out of the clock to yodel and swing a stein of beer.
In the summer, Kimberley Summer Theatre (KST) members perform vaudeville, two-handers and songs from a gazebo in the centre of the Platzl. Their silly ditties and one-liners will have children and adults in stitches. This year KST is staging two full productions, one that would be perfect to take the kids or grandkids to and another one that will appeal to an older crowd.
The Wizard of Oz will be presented August 3 to 9 and August 12 to 14 at 7:30 p.m. each night in McKim Theatre (the theatre in the community's middle school), while Self-Help, a farce by Norm Foster, will be staged from July 9 to 27.
Ride the rails
Every kid—and kid at heart—likes a train ride, right? That's where the Kimberley Underground Mining Railway comes in. This attraction is open weekends starting May 18, 2013, with daily operations commencing June 29 and continuing to September 2.
Depending on the age and interests of any kids you might have coming along for the ride, you can choose between mining tours (11 a.m., 1 p.m. and 3 p.m.) or the Resort Express (10 a.m. on Saturdays, Sundays and holiday Mondays) that heads straight to Kimberley Alpine Resort.
As for where to park your RV, the Kimberley Riverside Campground is an exceptional facility. It is just far enough out of town to make you feel like you're having a real wilderness experience in a beautiful forest, while close enough to Kimberley to allow for quick trips into town for an event—or maybe just an ice cream cone.